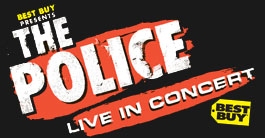 Once again, sales for The Police in Chicago were brisk with the Friday, July 6th performance selling out in less than two hours today.

Now, with the production for the tour completed, promoters have determined that the sight-lines for The Police performance at Wrigley Field are better than anticipated, and as such, a final block of tickets for the July 5th performance have just been released. Tickets in the .00 and .00 categories are on sale now at http://www.tickets.com/ or by calling 1-800-THE -CUBS. Tickets are not available at the Wrigley Field Box Office. There is a six ticket limit per customer.

From their early beginnings, The Police were hailed as a maverick live band - a group that galvanized an already impressive studio sound into something otherworldly when performing. Combining controlled energy and evocative melodies, Sting, Stewart Copeland and Andy Summers played with the improvisational instincts of a jazz trio and the raw energy of a punk-rock band - a blend that made them one of the definitive rock groups of the'70s and '80s.

Special guest Fiction Plane will join The Police for the North American portion of the tour including the Wrigley Field event. Known for their high-energy live shows, this dynamic rock trio will be releasing their 2nd album in May. Fiction Plane are: Joe Sumner (Bass); Seton Daunt (Guitar); Pete Wilhoit (Drums).

The North American tour is presented by Best Buy, the leading consumer electronics retailer with nearly 1,000 retail locations in the United States and Canada. Complete details of the Reward Zone program presale can be found at www.bestbuy.com/thepolice.

A portion of the proceeds from this tour will be donated to WaterAid, an international NGO founded in 1981 and dedicated to reducing poverty by improving access to safe water, sanitation, and hygiene education. For information, visit: http://www.wateraid.org/.

The Police World Tour is produced by The Next Adventure, A Live Nation Company in association with RZO Entertainment, Inc.

For complete tour & ticket information, fan club memberships and more visit: http://www.thepolicetour.com/.

ABOUT WRIGLEY FIELD:

As Wrigley Field is in a residential neighborhood, fans are encouraged to use public transportation to attend the concert. The Cubs operate a shuttle and parking service at the DeVry University campus located off Addison St. and Western. Parking at this location will be .00 and all occupants ride the shuttle free to and from the ballpark.

Tailgating will not be allowed in the Wrigley Field parking lots. All bags will be inspected upon entry to Wrigley Field. The following items are not permitted in the site.

- Food & Beverage Items
- Umbrellas
- Cameras & Video Recording Equipment
- Laser Pointers

For detailed information on how to get to Wrigley Field, please visit: http://www.cubs.com/.