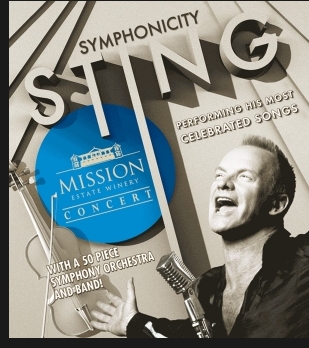 Rock star Sting says his job is to perform a 30-year-old song with the "same passion and same intensity as if I'd written it this afternoon".
Having the backing of the 50-member New Zealand Symphony Orchestra also helped.
"You get this whole tidal wave of sound," he told TV ONE's Close Up. "It's inspiring."
'Every Little Thing She Does is Magic', 'King of Pain' and 'If I Ever Lose My Faith In You' were among the hits Sting performed with the NZSO in front of more than 25,000 fans at the Mission Estate in Hawke's Bay on Saturday.
He said he only met the orchestra, however, two hours before the first of his two New Zealand concerts.
"It just amazes me the quality and standard of musicianship they have," he said. "The New Zealand Symphony... they're great."
Sting said people who had watched him perform with an orchestra were "not sure at first".
"They see a symphony orchestra and a conductor and they think 'Oh, we're in church, we better be polite and sit there' but after a couple of songs they figured out it's fun, they really get into it."
Sting said he loved being on the road as much as he loved being at home.
Advertisement
"It's good to have a balance between life on the road and my lovely family, I'm lucky," he said.
On the subject of family, Sting revealed his youngest child wanted to be a police officer. Two of his children were musicians, two were actors and one a film director.
"They're pretty grounded and down to earth," he told Close Up. "I get more compliments about my children than I do about anything else which really makes me happy."
WATCH VIDEO
© TVNZ