Today, two-time Grammy-nominated DJ/Producer Steve Aoki, 17-time Grammy Award winning musician Sting, and platinum-selling trio SHAED (known for their hit single "Trampoline"), team up to release their new collaborative anthem for soulmates everywhere - an offering from Aoki's upcoming Neon Future IV - "2 in a Million".
Click Here to Buy/Stream/Download "2 in a Million"
Click Here to Watch the Music Video
Click Here to Download Single Artwork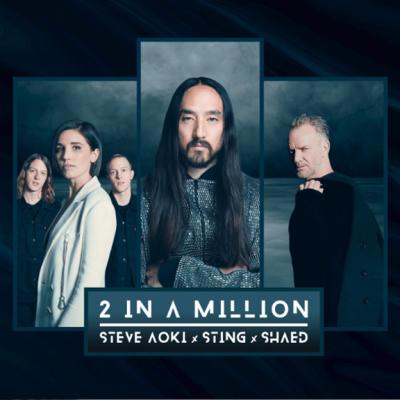 The track begins with Sting as his soothing, unmistakable vocals captivate over Aoki's slow but steady build, a signature of his pop ballads. The beat then drops introducing the pure vocals of SHAED's lead Chelsea Lee as she joins pre-chorus with Sting to harmonize "how many people in the world are looking for a love like this tonight/ How many people in LA out there are searching for a sign/ How many people in the crowd and I still wander by your side," grappling with the search of finding one's soulmate through all of life's complexity.

The music video mirrors the sentiment of the song and its natural progression of the quest for a soulmate, opening with Sting on an empty stage in the spotlight alone. Thereafter two contemporary dancers join him on stage in a portrayal relaying how the two are 'meant to be'. Next, we find SHAED in the mezzanine of the same theatre, while the video continues to intertwine all three acts - Steve, SHAED, and Sting in separate places within the theatre, up until we find them together on the rooftop overlooking the cityscape.

"I am beyond excited about this collaboration with Sting and SHAED," said Aoki. "SHAED is a group of incredible talent and Sting is just a legend. I've been a fan of his for as long as I can remember, so it's surreal to have him on one of my songs. What they both brought to the table made for an incredible track, so ready for the world to hear it."

Sting added, "To me, the greatest element in music is surprise so I'm always open to collaborate with other artists as you never quite know where it's going to take you. This sounded like an interesting opportunity and I'm excited for people to hear the new track."

"We all grew up listening to Sting and The Police," tacked on SHAED. "He was a huge influence on all of us so when Steve approached us with the collab it was a no brainer. We had the best time working with Steve and Sting and really love this track."
About Steve Aoki:
Steve Aoki, the two-time Grammy-nominated producer/DJ is one of today's most successful American cross-genre artists, collectively counting 2.6 billion music streams on Spotify, with an additional 355 million music streams on YouTube. As the founder of the trendsetting record label, events/lifestyle company, and apparel line Dim Mak Records, which he founded in 1996, Aoki has helped launch the careers of global acts like The Chainsmokers, Bloc Party, The Bloody Beetroots, The Gossip, and The Kills, among many others. Dim Mak today counts more than 1,000 official releases from the biggest acts and most buzzing newcomers across EDM, indie rock, hip-hop, and beyond over its two-decades-plus discography. As a solo artist, Aoki boasts a lauded discography that includes: Wonderland (2012), his debut solo album, which garnered him his first-ever Grammy nomination for Best Dance/Electronica Album; the Neon Future series, which includes Neon Future I (2014, certified gold by the RIAA), Neon Future II (2015), and Neon Future III (November 2018) and the hip-hop centric Steve Aoki Presents Kolony (2017). Recognized by Forbes as one of the top 5 world's highest paid DJ's and the world's hardest working DJ, Aoki is "one of the most in-demand entertainers in the world" (Billboard), counting more than 250 tour dates per year, with past performances at nearly every top festival around the world including Coachella, Ultra Music Festival, Lollapalooza, Fuji Rock Festival, Tomorrowland, Electric Daisy Carnival, and more. In 2012, Aoki founded THE AOKI FOUNDATION, which primarily supports organizations in the brain science and research areas with a specific focus on regenerative medicine and brain preservation.
Click here to view Steve Aoki Twitter
Click here to view Steve Aoki Instagram
Click here to view Steve Aoki Facebook
About SHAED:
Platinum-selling DC trio SHAED have had a banner 2019 thanks to the global success of their breakout hit single "Trampoline." Taken from the band's 2018 EP Melt, "Trampoline" made waves after being featured in Apple's MacBook Air ad campaign that resulted in feverish radio play, landing them at #1 on both the Alternative and Rock Airplay charts, #1 on Billboard's Emerging Artists chart, #6 on Top 40, and #16 on the Hot 100. Along the way, the song has tallied over 1.4 million TikTok user creations and over half a billion streams, as well as catching the ear of pop sensation ZAYN, who appeared on a special version of the track this fall. Consisting of powerhouse vocalist Chelsea Lee, her husband Spencer Ernst and his twin Brother Max Ernst – both of whom tackle instrumental and production duties – SHAED has played to massive crowds at major music festivals all year including Lollapalooza, Governors Ball, Summerfest, BottleRock, Summer Sonic Japan, Firefly and more, all while completing two sold-out North American headline tours. The band made debut appearances on Good Morning America and Jimmy Kimmel Live!, and they've been featured by Billboard, Rolling Stone, Variety, MTV, Interview Magazine, i-D Magazine, NYLON, The Washington Post, and many more. SHAED looks to continue their rise into 2020 with follow-up single "Thunder" approaching Alternative Radio's Top 20 and a debut album on the horizon.
About Sting:
Composer, singer, author, actor, and activist, Sting is one of the world's most renowned and distinctive artists. Throughout his illustrious career, he has received 17 Grammy Awards, a Golden Globe, an Emmy, four Oscar nominations, a TONY nomination and has sold 100 million albums from his combined work with The Police and as a solo artist. He is a member of both the Rock and Roll Hall of Fame and the Songwriters Hall of Fame, has received the prestigious Kennedy Center Honors as well as honorary Doctorate of Music degrees from Northumbria University (October 1992), Berklee College of Music (May 1994), University of Newcastle upon Tyne (2006) and Brown University (2018). Sting, managed by The Cherrytree Music Company, has appeared in more than 15 films and authored two books, including The New York Times best-selling memoir, Broken Music. His most recent theatre project is the Tony®-nominated musical The Last Ship, inspired by his memories of the shipbuilding community of Wallsend in the North East of England where he was born and raised. The show, with music and lyrics by Sting, ran on Broadway in 2014/2015 and last year, completed a critically acclaimed UK regional theatre tour. Thereafter, Sting starred as shipyard foreman Jackie White in the Toronto-based production of The Last Ship. He will reprise the role for performances in Los Angeles, San Francisco, Washington, D.C, and Detroit, MI with additional information on The Last Ship Tour available at thelastshipmusical.co.uk. His latest album, My Songs, features contemporary interpretations of his most celebrated hits and was accompanied by a critically acclaimed world tour, which will resume in June 2020. Next Spring, he will headline a Las Vegas residency, also entitled "My Songs," set to open at The Colosseum at Caesars Palace on May 22. Sting's support for human rights organizations such as the Rainforest Fund, Amnesty International, and Live Aid mirrors his art in its universal outreach. Along with wife Trudie Styler, Sting founded the Rainforest Fund in 1989 to protect both the world's rainforests and the indigenous people living there.
www.sting.com
Instagram: @theofficialsting
Twitter: @officialsting
Facebook: http://bit.ly/2TU4Y1Z