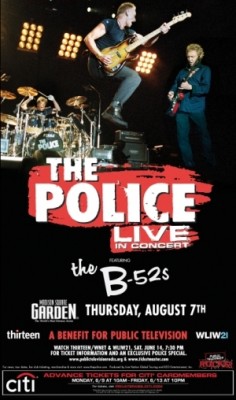 We are pleased to announce that The Police's final concert of their reunion tour will be held on August 7, 2008, at Madison Square Garden in New York. Proceeds from this event will benefit Thirteen/WNET and WLIW21 New York's public television stations, producers of arts programming seen all across America and the Public Television Rocks! Initiative.

Tune in to Thirteen/WNET and WLIW21 on Saturday, June 14th at 7:30 PM ET and again on WLIW21 at 9 p.m. to see "The Police: Public Television Rocks!", a celebration of one of rock's greatest bands featuring classic Police concert footage and interviews.

The Police's final concert of their reunion tour will also feature special guests the B-52's.

Visit ThePolice.com News section to read the full press release.
Thirteen/WNET and WLIW21 have made sure The Police fan club has the opportunity to join public television supporters at this special show. Advance access for fan club members is explained below.

The Police fan club ticket info:

All ticket proceeds will benefit public television. By making your donation fan club members will become supporters of Thirteen/WNET and WLIW21. Fan club members will receive additional information directly from Thirteen/WNET and WLIW21.

Advance ticket access for Police fan club members will be available Monday, June 9th starting at 10AM ET for Legacy fan club members and at Noon ET for non-Legacy and new members.

The ticket limit per Police fan club member will be 4 tickets. Tickets are available in amounts of 2, 3 and 4. No single tickets are available.

Ticket prices will range from $79.50 to $379.50. All current Premium and Legacy members, regardless of whether they have utilized their fan club ticket allocation already, will be able to participate in this ticketing event. Members who have already received a ticket passcode will be able to access another passcode during the advance ticket access window for this show.

Tickets will be available to the general public via the Ticketmaster site starting on Saturday Jun 14 at 7:30 pm.

For more information on how to access advance tickets please visit tickets.thepolice.com/ page.