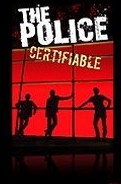 Thirty years after they first stormed the music scene, legendary rock band The Police, bassist/vocalist Sting, drummer Stewart Copeland and guitarist Andy Summers, embarked on a reunion tour on May 28, 2007. This highly successful world tour visited five continents, played to nearly 3.7 million fans and garnered numerous accolades from Billboard, Pollstar, as well as The People's Choice award for Favorite Reunion Tour. It also went down in history as the third highest grossing tour of all-time. Now, following their much heralded 14-month reunion tour, The Police commemorate the culmination of the tour with a special release.

On November 11, The Police will release a 4-disc set (2 CD's and 2 DVD's) entitled "The Police: Certifiable," which contains the band's entire concert from Buenos Aires, Argentina. In the US, this special piece - along with Blu-Ray version and three-LP, premium 180-gram vinyl set with MP3 file key - will be released exclusively through Best Buy where pre-orders are already available. In the rest of the world, the album and DVD will be released via all retail outlets starting November 10. The United Kingdom release date for the DVD and Blu-Ray formats is November 24.

A massive European media launch of the Blu-Ray format, in association with Sony, DTS and the Blu-Ray Association, will take place prior to the European release and will be attended by Stewart Copeland of The Police.

"The Police: Certifiable" is produced and directed by the award-winning Graying & Balding, Inc. team of Ann Kim and Jim Gable, whose film credits include the Rolling Stones, Sting, Keith Urban and Chris Botti.

In the U.S. specifically, the STANDARD set will contain 2-DVD's and 2-CD's that include the following:

* DVD with a 109-minute wide-screen concert presented in Dolby Surround and Stereo

* DVD with 50-minute bonus feature, "Better Than Therapy, " directed by Jordan Copeland detailing The Police's historic reunion with exclusive behind-the-scenes interviews from the band and road crew, plus 2 photo galleries of The Police on tour; one shot by guitarist and photographer Andy Summers and one by photographer Danny Clinch.

* 2 CD's with The Police's new live album from Riverplate Stadium in Buenos Aires, Argentina, including all of the band's classics such as "Message in a Bottle," "Walking on the Moon" and "Every Breath You Take."

The Blu-Ray format will contain:

* The 109-minute 1080 HD (High Definition) concert presented in Surround and Stereo, in Dolby True HD and Dolby Digital

* The special 50-minute bonus feature, "Better Than Therapy" in HD, and the Summers and Clinch photo galleries in HD.

* 2 CD's of Buenos Aires concert

As well as full album on VINYL, featuring:

*Wide spine gatefold jacket, contains 3 pieces of heavy weight (180 gram vinyl), plus insert for downloading MP3's of the album.