Sting's Manchester booksigning...
Sting held a booksigning for his book 'LYRICS' at Waterstone's in Manchester on June 17. See some images from the signing here...
Photos by Dave & Wendy
LYRICS BY STING
Published by Simon & Schuster in hardback on 5 November 2007, priced £16.99
Simon & Schuster UK are proud to announce the publication of the second book by Sting, the world-renowned and award-winning singer, songwriter and human rights activist.
LYRICS is a comprehensive collection with commentary written by Sting, spanning his entire career.
Simon & Schuster UK also published his acclaimed autobiography BROKEN MUSIC in hardback in 2003 and in Pocket Books paperback in 2005.
LYRICS features more than 100 songs, presented in chronological order from the first Police album 'Outlandos D'Amour' to Sting's most recent solo rock album, 'Sacred Love', as well as photographs from each period of his career. Sting has also penned original commentary about his writing process, the inspiration behind the albums, and the evolution of his career as a songwriter. Excerpts include: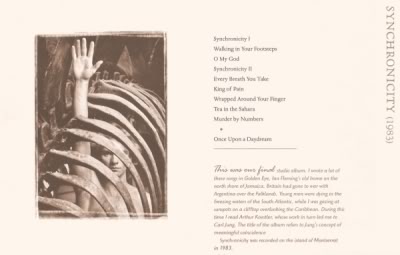 On 'Roxanne' from
Outlandos D'Amour
(1978):
"I wrote 'Roxanne' in Paris in 1977...Inspired by the romance and sadness of Edmond Rostand's great play Cyrano de Bergerac and the prostitutes on the street below, 'Roxanne' came to life..."
On 'Don't Stand So Close to Me' from
Zenyatta Mondatta
(1980):
"Yes, I was a schoolteacher. NO, the song is not autobiographical! ...I'm interested in obsession, and Vladimir Nabokov's Lolita is a fascinating study in dangerous obsession. I transposed this idea to a relationship between teacher and his pupil..."
On 'Every Breath You Take' from
Synchronicity
(1983)
"My original intention was to make it a seductive love song, but what I ended up with was something much darker. My life had invaded the song. Everything around me seemed to be disintegrating: my marriage, my band, my sanity, and this at a time when, from the outside, I appeared to be one of the most successful musicians of the world."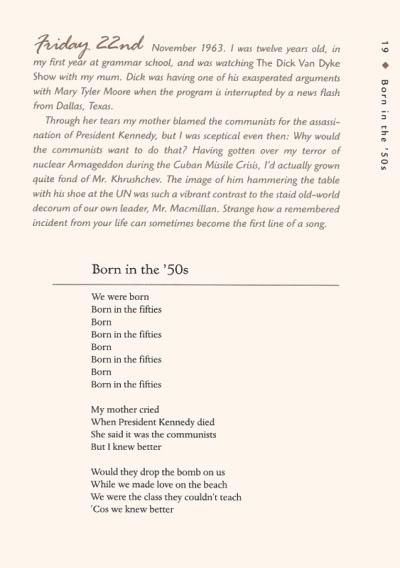 Sting's recordings have collectively sold over 90 million copies during the course of his remarkable career as a solo artist and as a member of the Police. Currently, Sting and the Police are in the midst of a sold-out world reunion tour.
WWW.STING.COM
or
WWW.THEPOLICE.COM