Join Sting.com as a premium member...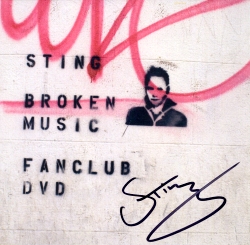 Join Sting.com as a premium member before December 22 at a special discounted holiday season price of and you will be entered into our draw to win one of our signed copies of the exclusive Broken Music Fan Club DVD!
As the holidays are fast approaching, we thought we'd give you a great gift idea: give the gift of a Sting.com membership!
Join Sting.com today as a Premium member and save dollars off the membership price and you may also receive a copy of the exclusive "Broken Music" Fan Club DVD autographed by Sting along with your membership! We've slipped some autographed copies of the Fan Club DVD into our inventory and maybe you will receive one if you join by December 22.
In order to receive the discounted price on the Premium membership and have a chance to receive a signed DVD, you must join Sting.com at the Premium level by 11:59 PM EST on December 22nd!
Don't miss out on this great opportunity,
join Sting.com today!