Watch Sting's beautiful video tribute to Ronnie Pearson...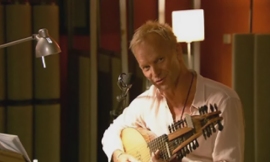 Earlier this year, Ronnie Pearson, drummer in Last Exit and innumerable local bands on the North East music scene passed away. His family and friends held a memorial evening for him on October 3 in Newcastle to celebrate his life and career.
Andy Hudson, organiser of the evening said "Ronnie was a significant drummer and this gig is a tribute to what he used to do. We have about 20 local musicians involved and Ronnie's drum kit will be set up."
Sadly, Sting was unable to attend the event because he was performing in London that evening, but he and Edin Karamazov recorded a very special video tribute to Ronnie, along with a unique and wonderful version of 'Fields of Gold' that was screened on the evening.
We are delighted to be able to bring members that video and you can watch it by visiting the 'Exclusives' section of the website or clicking on the link below.
Ronnie will of course be missed by everyone that knew him, and we can't think of a better tribute to him than the following excerpt from Sting's biography...
"Local legend John Hedley will be on guitar, and the equally legendary Ronnie Pearson on drums. Ronnie Pearson, so legend has it, turned down the Beatles when they were struggling in their early days to find a drummer. Ronnie did hail from Warrington in Lancashire, only a few miles from Liverpool, and would be about the right age, but I would never probe him about the details of this fabled story for fear of its veracity dissolving in the cold light of scrutiny, and also wanting to maintain my own thrill at this proximity to greatness. Ronnie is a great drummer - and that was never in dispute - always in demand as a session musician, slick, professional, able to play in any style, and is considered even among other drummers to be the best. Gerry and I are very proud to be playing under the same stage with such luminaries."
Rest in peace Ronnie.