New video footage in Virtual Ticket...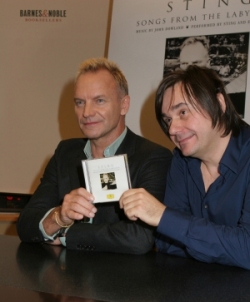 In our latest video clips you can watch Sting & Edin performing 'Clear Or Cloufy;, 'Can She Excuse My Wrongs', 'La Rossignol' and 'Fine Knacks For Ladies' at the Radio France soundcheck in Paris in October. More clips will follow over the next few weeks. Other recent footage include footage from their CD signing in New York, a thank you from Sting to all those Sting.com members who signed his electronic birthday card a couple of weeks ago, plus other footage from the recent performances at LSO St Luke's in London and the Allen Room in New York.
You can also watch several clips from his party in Newcastle with his old frriends from the Big Band and Last Exit, the ceremony at Newcastle University as Sting receives his Honorary Doctorate of Music, him discussing his album 'Songs From The Labyrinth' and telling us about some of the books he has enjoyed this year.
Other Virtual Ticket footage includes the US Broken Music tour where we brought you video footage of:
Pt 17 - The band flying to their next gig
Pt 16 - The band performing 'Synchronicity II (Denver)
Pt 15 - Dominic and Josh try out some yoga (Denver)
Pt 14 - Backstage and onstage (Salt Lake City)
Pt 13 - Soundcheck with fans (Salt Lake City)
Pts 11/12 - Sting goes snowboarding (Denver)
Pt 10 - Backstage and onstage (Missoula)
Pt 9 - Josh and his psychic powers (Kelowna)
Pt 8 - Backstage and encore (Kelowna)
Pt 7 - Preshow and Dominic gets into trouble (Eugene)
Pt 6 - Spirits In The Material World & interview
Pt 5 - Backstage after opening night (San Jose)
Pt 4 - Soundcheck before opening night (San Jose)
Pts 1/2/3 - Soundstage rehearsals (Los Angeles)
If you're not currently a member you may be wondering what Virtual Ticket is. During the 'Sacred Love' tour we have had cameras on the road with Sting as he trekked around the world. The result? Lots of behind the scenes footage of Sting and the band, as well as photo sets from shows and soundchecks. We followed him on the Broken Music tour too and are currently bringing you behind the scenes footage from that tour. Below is a quick summary of other footage that members can currently enjoy in Virtual Ticket...
Video Footage:
A Night at the Roxy with Sting
Annie Lennox Interview: (Four Parts)
Ask Sting : Sting Answers, (Four Parts)
Atlanta: First show back from the break...
Atlantic City: Feature a dancing baby in a casino.
Branford Marsalis Interview (Two Parts)
Cheltenham Interview (Six Parts)
Chicago: Sting signs hundreds of autographs for lucky fans
Chicago: Sting talks about his fans
Chicago: What would you say to Sting if you had a chance?
Colombus: Amphitheater 'Love'...
Colombus: Kipper & Jason get fired by Dominic...
Colombus: Last minute changes...
Columbus: Meet Annie Lennox's Band...
Dallas: A message from Sting
Dallas: What do the band do before they go on stage?
Danny Quatrochi Interview...
Dominic goes 'Five Rounds with Francis'
Kipper goes 'Five Rounds with Francis'
Lisbon: 'Dead Man's Rope'
Lisbon: 'Desert Rose'
Lisbon: 'Sacred Love'
London: Sting's returns after illness...
Los Angeles: Wynonna - "Sting's a babe"...
Miami: Fan Asylum Travel Package buyers have their say
Miami: Getcha Merchandise... while you're still sexy!
Musicares Rehearal: 'My One And Only Love' with Dave Hartley
New York: Dominic & Sting perform 'Shape Of My Heart' at the 'Shapes' release party
New York: Dominic performs Bach's 'B Minor Mass' at the 'Shapes' release party
New York: Dominic rehearses for the 'Shapes' release party (Two Parts)
New York: Fans wait on 75th St. to surprise Sting & band.
Ottawa: Greetings from the last show of the first leg
Ottawa: Sting joins Chris Botti for 'My Funny Valentine'
Ottawa: The Last HAHA - The final song from Chris Botti's last set
Ottawa: What happened during Chris Botti's set?
Raleigh: Sting is joined on stage by Branford Marsalis
Soft Core - Sting gets his photo taken by Kevin Mazur
Sting at KROQ Radio, Los Angeles
Part 1: "The Broken Music Tour"
Part 2: "The Same Song... Again"
Part 3: "Dude, Where's My House?"
Part 4: "Sting knows everybody"
Sting discusses what his new book is about:
Sting explains why he wrote his new book:
Sting talks about working with Annie Lennox...
Sting teaches at University of Oregon
Part 1: "Hello Class"
Part 2: "The Professor, the Critic"
Part 3: "Beginning & Ending"
Part 4: "Short and Cryptic"
Part 5: "Trusting Instinct"
Part 6: "Turn to page 209..."
Sting's Welcome Message
Toronto: Recording 'My Funny Valentine' with Herbie Hancock
Verona: Sting travels back in time...
Whenever... (Two Parts)
Photosets:
A Conversation with Sting, Cheltenham, 24 Nov 2004
Adams Centre, Missoula, 7 Apr 2005
Air Canada Centre, Toronto, 17 Oct 2004
Arena, Oberhausen, 12 Nov 2004
Assembly Hall, Champaign, 17 Apr 2005
Broken Music Rehearsals, Il Palagio, Mar 2005
Castle Hall, Osaka, 15 Jan 2005
Civic Center, Des Moines, 21 Feb 2004
College Workshop, Newcastle, 6 May 2004
Festhalle, Frankfurt (Soundcheck), 13 Nov 2004
Festhalle, Frankfurt (Show), 13 Nov 2004
Hay Festival, Hay-on-Wye, 4 Jun 2005
In Conversation with Sting, Cheltenham, 24 Nov 2004
Irving Plaza, New York, 15 May 2005
Jones Beach Soundcheck, Wantagh, 14 May 2005
Jones Beach, Wantagh, 14 May 2005
Knight Center, Miami (Dress Rehearsal) Jan 23 2004
Knight Center, Miami (Soundcheck) 23 Jan 2004
Kohl Centre, Madison 15 Apr 2005
Kurpark, Wiesbaden, Jun 19 2004
Majestic Theatre, San Antonio, 30 Jan 2004
MEN Arena, Manchester, 22 Nov 2004
Mermaid Theatre, London, 12 Sep 2003
Metro Radio Arena, Newcastle, 19 Nov 2004
Milwaukee Theatre, Milwaukee, 2 Feb 2004
Newcastle College Workshop, 6 May 2004
NextStage, Dallas, 31 Jan 2004
Northrop Auditorium, Minneapolis, 3 Feb 2004
Oberhausen Arena, 12 Nov 2004
Olympia Theatre, Paris, 22 Sep 2003 (#1)
Olympia Theatre, Paris, 22 Sep 2003 (#2)
Olympia Theatre, Paris, 22 Sep 2003 (#3)
Palacio de los Deportes, Mexico City, 13 Sep 2004
Prospera Place, Kelowna, 5 Apr 2005
'Richard & Judy' Interview, 15 Dec 2004
Rosemont Theatre, Chicago 27 Feb 2004
Royal Albert Hall, London, 14 May 2004
Royal Albert Hall, London, 19/20 May 2004
Saenger Theatre, New Orleans, 28 Jan 2004
San Jose Event Center, 1 Apr 2005
Seidenstickerhalle, Bielefeld, 6 Nov 2004
Sheraton Park Lane Hotel, London, 19 Mar 2005
Sneak Preview at the Roxy, 28 Mar 2005
Sneak Preview Show at the Roxy, LA, 28 Mar 2005
Soundcheck, Fukuoka, 18 Jan 2005
Soundcheck, Hiroshima, 16 Jan 2005
Soundcheck, Osaka, 15 Jan 2005
Spokane Arena, 4 Apr 2005
Stadtgarden, Cologne (Dominic Miller & Friends), 16 Jun 2004
Sting at the Gizmondo Launch, London, 19 Mar 2005
Supper Club, New York City, 20 Oct 2004
Tanzbrunnen, Cologne, 16 Jun 2004
The Forum, Copenhagen, 9 Dec 2004
The Odyssey, Belfast, 17 Nov 2004
The Point, Dublin (Show) 16 Nov 2004
The Point, Dublin (Soundcheck) 16 Nov 2004
Tweeter Center, Boston, 28 Jun 2004
Tweeter Center, Camden, 27 Jun 2004
UIC Pavilion, Chicago, 18 Apr 2005
Warner Theatre, Washington 11 Mar 2004
White River Amphitheater, Seattle, 8 Oct 2004
Wiesbaden, Germany, 19 Jun 2004