New video clips on line at ThePolice.com - Catch Sting celebrating backstage and see his message of thanks to fan club members for his birthday messages...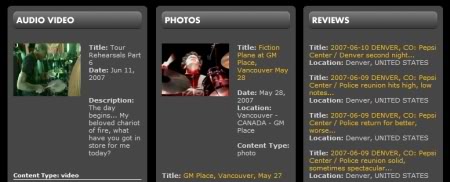 Members can check out the latest video clips from the tour in the Virtual Ticket section of the site. The latest clips are from Sting's birthday in Turin last month as we catch up with him backstage and thanking fan club members for his birthday messages. This comes hard on the heels of recent clips including the Fenway Park soundcheck, a tour of Stewart's amazing kit with Jeff Seitz, the band relaxing before taking the stage in Stockholm, footage from the Giants Stadium show, Las Vegas show ('Every Little Thing She Does Is Magic, 'Don't Stand So Close To Me' and 'Voices Inside My Head') and the Tampa concert, Stewart's birthday party, the band performing in Louisville, the band backstage preparing for the opening night of the tour in Vancouver and clip featuring Tour Production Director Charlie Hernandez talking about the logistics of putting the stage show together and Fiction Plane.

Great clips with more to come!