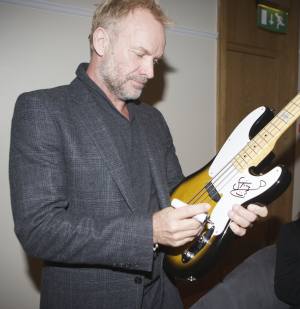 When Sting was back home in Newcastle recently he signed one of his Fender Precision Signature basses and this is currently being auctioned to raise funds for Acomb Court Residential Care Home in Hexham, near Newcastle. This is a really worthwhile cause and provides Sting fans with the ideal opportunity to get their hands on a fantastic Christmas present for either themselves or a loved one!
The Japanese Fender is Sting's signature model and has been donated by an anonymous source with the purpose of raising funds for the residents at Acomb Court. As an exceptional addition to the guitar, Sting himself signed it on his visit to the region this month (see photo).
Angela Bews, Manager at Acomb Court said: "We were delighted when we found out about this very exciting donation. We always ensure that the residents have plenty of activities and trips planned throughout the year and this generous donation will enable us to do this even more this year."
The guitar will appear on eBay from the Friday 28 November and will be auctioned for two weeks. The guitar will be set at a guide price of £600 and comes with a soft case and a certificate of authenticity.
Visit
www.ebay.co.uk
to bid or for further information!