Sting talks to The Australian about his dates later this year with Edin Karamazov...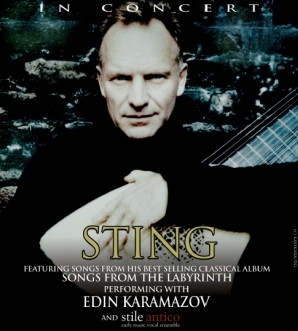 Ahead of an Australian tour focused on 16th-century music for the lute, Sting tells Iain Shedden in an exclusive interview that John Dowland's influence can be traced all the way to the Beatles...
Sting's not one for resting on his laurels when there's music to be made or discovered, but he's looking forward to a break when the marathon reunion world tour of his band, the Police, draws to a close at New York's Madison Square Garden on Thursday.
"I'll be putting my feet up for a few weeks," the Police chief says with a sigh of relief, 15 months after the trio began its 30th anniversary extravaganza in Vancouver, Canada.
Once that holiday's over, however, the 56-year-old English musician has a radically different challenge ahead of him. He will swap the four strings of his bass guitar for the 26 he employs on his other favoured instrument of recent years: the lute.
"I'm heading back to the 16th century now," he says in that familiar, slightly hoarse voice.
It's his second such journey into the life and music of Elizabethan composer and lutenist John Dowland, whose songs Sting and celebrated Bosnian lute player Edin Karamazov released on the CD 'Songs from the Labyrinth' in 2006. That album, which has sold close to one million copies - unheard of in its genre - prompted a European tour just a few months before the Police jaunt began.
Now the author of 'Walking on the Moon', 'Every Breath You Take' and 'Message in a Bottle' must adjust from playing to 30,000 a night in stadiums to the more sedate environment of Australian concert halls, including Sydney Opera House, when he arrives with his lute for a short Australian tour with Karamazov in November. "If you're used to playing to crowds of 20,000 or 30,000 people, it is quite intimidating when you can actually see everyone in the crowd," he admits. "It's so intensely quiet, this music, so detailed, you can hear everything. It's quite nerve-racking, but then again that's what a performer has to do, put himself back in school and learn something new. Good work is never wasted with me, it always feeds into everything else, so it was a very enriching experience to sing this kind of stuff."
With music that demands quiet to be fully appreciated, almost every breath Sting takes will be audible in harmony with the two lutes. "It's quite an antidote to all that smoke and noise and hysteria (of the Police tour), doing the John Dowland songs," he says. "It's actually good for me. They didn't have huge venues to fill when they were playing this music back then. People just gathered around tables."
Sting's association with the lute dates back several years, to when he was given one as a present by Argentinian classical guitarist Dominic Miller. Immediately he became fixated onconquering the instrument's subtleties and complexities. Through the work of Dowland, one of the most celebrated lutenists of the English Renaissance, he began learning not onlythe technique but also about the life of hissubject.
"It's a fascinating story and one of frustration, in that he was a brilliant musician who, although incredibly well respected, didn't get the accolades he deserved because of his religion," Sting says.
Whether this is true is open to question. Dowland's history is patchy, but it is widely believed he converted to Catholicism after moving to France in 1580, where he worked as a musician in the French royal court. He claimed this conversion prevented him from being a court musician back home under the Protestant Elizabeth I, although that honour was bestowed on other Catholic musicians.
"He felt hard done by," Sting says. "It was a time when to have a religion was to risk death. I wanted to tell that story."
The story is revealed in some detail in the notes and Dowland letters that accompany Songs from the Labyrinth.
Even after Sting had asked Karamazov to help him learn the lute, there was no plan to take his new skills any further than his front room.
He describes how his interest turned into "a passion, a little bit of exploration".
"It only became an album when I started to read passages of Dowland's letters," he says. "I realised that most people hadn't heard this sort of music before and that they would need some kind of context to listen to it in. Once we had a context that was historical, it made sense.
"There is an argument that these songs were written for modern pop singers. They also give me a chance to give the songs a little more personal touch, be a little more sensuous... closer. As beautifully as they have been interpreted before, they're a little distant. I wanted to bring them closer. I think Dowland is the father singer-songwriter. You can trace him all the way through to the Beatles."
Dowland was the Sting of his day, in a way. He was a songwriter of great repute, with a penchant for melancholy. One of his best known pieces, 'Flow My Tears', which features on 'Songs from the Labyrinth', begins thus:
Flow my tears, fall from your springs
Exiled for ever, let me mourn
Where night's black bird her sad infamy sings
There let me live forlorn
Not quite De Doo Doo Doo De Da Da Da, perhaps, but sad all the same; enough to inspire the Geordie tunesmith, at least.v "I recognised something in his music that had a lineage, both harmonically and melodically," he says. "Economy is a great thing. These songs can be played entirely on just voice and lute. There's a great deal of space and silence. The song 'In Darkness Let Me Dwell' is quite an extraordinary song by any standards. It's so baffling and mysterious and dark. I love it."
And while we will never know what Dowland sounded like, he shares some common ground with the man playing his music in 2008. "There's a melancholy strain through that kind of music that my voice lends itself to," Sting says. "I'm connected to its melancholy and even fond of its melancholy. There's a kind of essential Englishness about it, too."
Titles such as 'In Darkness Let Me Dwell', 'My Lord Willoughby's Welcome Home' and 'Weep No More, Sad Fountains' have both of those attributes. In concert, Sting adds a modern, personal touch by giving songs of his own such as 'Message in a Bottle' and 'Fields of Gold' the Dowland-flavoured lute treatment.
The album has done wonders for the lute trade in the past two years, with sales of the instrument soaring across Europe and the US since its release. However, Sting has copped some flak since committing himself to the lute project. In her television sitcom Clatterford, Absolutely Fabulous star Jennifer Saunders recounts, in character, how she had a lovely time at Madonna and Guy Ritchie's party "until Sting played the lute".
It's not the first time the word pretentious has inhabited the same room as the Police superstar.
Since the group disbanded in the early '80s Sting has immersed himself in a variety of musical genres and collaborations, surrounding himself with top players from the world of jazz and world music, as well as working as an actor. It's all part of his self-imposed learning curve, he insists. "It's part of my job to put myself in the position of student," he says. "The great thing about music is that you never get to the end of it. No matter how much you know, there's just more and more and more. My modus for many years is to keep learning about music.
"I'm curious about music. I tend to listen to more classical music than I do pop music, just because I think there's more there to learn from in terms of counterpoint and arranging or whatever, but I appreciate pop music."
It was Karamazov's idea for Sting to tackle the Dowland catalogue.
A world-renowned interpreter of baroque music, Karamazov recognised something in Sting's voice that suited the form.
"Hearing Karamazov play is incredibly inspiring," Sting says.
"He is such a great player and an incredible musician. He lives and breathes the instrument and he lives and breathes baroque 16th-century music. And he's an incredible teacher. I'm incredibly fortunate to have him in my life. He's brought a great deal to it."
Sting is far from an expert on his archlute, a version of the instrument developed in Italy in the early 17th century.
"It has 26 strings and all of the problems inherent in that," he says. "It's a fascinating mistress, but very demanding. It's close enough to a guitar to really confuse you... the tuning and the fingering. But I'm completely hooked. I haven't played a guitar in ages. I'm totally hooked on the lute."
Before he immerses himself fully in Dowland's world for the second time, however, there's that other tour to sign off on, the one that has grossed about $350 million, making it the third largest grossing tour in history.
"Oooooh yeah," he moans in an exaggerated fashion when asked if the Police tour has been everything he expected. "It's been wonderful. It's been difficult. It has been challenging and it has been incredibly successful.
"It is like going back to a marriage. I don't know if you've ever done that, but it's not easy. At the same time... what a wonderful thing to have done. We're almost at the end of it and I haven't strangled the other two and they haven't tried to kill me. We have our battles and then we make up and then we fight again, but we care passionately about the music. We all have different ideas about how it should be achieved and realised, but it's all good."
After his Australian tour Sting will embark on another left-of-centre project, appearing in Paris alongside Elvis Costello and others in a stage version of Costello's long-term sidekick Steve Nieve's semi-operatic work 'Welcome to the Voice' (2007), a collaboration with Nieve's partner Muriel Teodori. Like 'Songs from the Labyrinth', it was released by the classical label Deutsche Grammophon.
"I'm loath to call it an opera because I'm not wearing tights and I don't have the proper voice," Sting says. "But we're singing with a bunch of opera singers. Again it's an experiment. And we're all ready to be stabbed."
Assuming that doesn't happen, the Sting of all trades has an open diary for next year.
"I'm facing liberation in that I haven't a clue what I'm going to do next," he says. "But I will be playing my lute."
© The Australian by Iain Shedden