Courier Mail article about 'Songs from the Labyrinth'...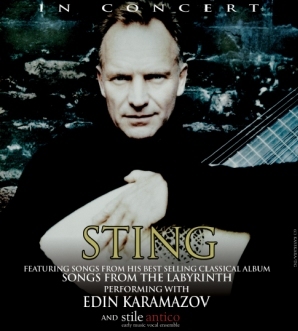 Lure of the lute revives Sting's career...
It's 1992, and Sting and his wife, Trudie Styler, are attending a performance in Hamburg by Germany's Circus Roncalli.
Sandwiched between the trapeze act and the gyrations of a Mongolian contortionist, the former Police frontman listens in awe as the Circus's resident musical trio, consisting of two guitarists and a percussionist, give unique interpretations of Vivaldi, Khachaturian and Mozart's Rondo alla Turca.
Thinking that he's doing them a favour, the delighted Sting sends word backstage that he would like to engage the group to perform for him at an upcoming birthday party in England.
In a flash, the word comes back from the circus trio.
Forget it, Mr Famous Pop Star. We're serious musicians.
For the next decade, Sting carries with him what he described as his "caustic pain at that moment, firmly put in my place and horribly embarrassed".
But England's rock royalty could never have predicted that, far from him doing them a favour, one of those self-assured Circus guitarists who had humiliated him so comprehensively would later be responsible for a stunning renewal in Sting's own career.
Fast forward to the new millennium, and at a concert in the Frankfurt Festhalle, Sting's guitarist Dominic Miller brings a friend backstage to meet his boss. The guest's name is Edin Karamazov and slung over his shoulder is a lute, the Renaissance instrument made famous in European courts by the Englishman John Dowland.
Sting would never forget the moment, writing later: "Edin began to play. Dominic and I were taken aback to hear the opening bars of Bach's Toccata and Fugue in D minor. The drama of this moment was stunning and unexpected; we were deeply moved."
Little did Sting know that the Sarajevo-born lutenist Karamazov was none other than one of the guitar players who had sent him packing at the circus in Hamburg. And now he was asking if pop music's master of melancholy cool was familiar with Dowland's music.
As it happened, Sting was, having sung a couple of the lute songmaster's songs in an impromptu way with classical pianist Katia Labeque, who believed the inherent sadness in his voice, made famous in pop classics such as 'Roxanne', 'Every Breath You Take', 'King of Pain' and 'Russians', was ideally suited to the most sensitive and poignant songs of the English Renaissance.
More than that, Miller had recently given him a hand-crafted lute of his own as a gift.
And this time, unlike a decade before, Karamazov gleefully accepted Sting's invitation to visit him in England.
There, just for fun, they opened Dowland's 'First Booke of Songes', and Sting began what he later described as, "my apprenticeship, my immersion in the music of a 16th-century composer and musician who has now been haunting me for almost a quarter of a century".
And once again, mysterious forces were at work. Somehow, piece by piece and unintentionally, their private explorations turned into an album of lute-songs, entitled 'Songs From the Labyrinth', that would be released in 2006 by the iconic classical music label Deutsche Grammophon to startled reviews, mass sales and an improbable nomination for a Classical Brit award.
None of this, though, came as any surprise to Karamazov.
Speaking from his home in Zagreb on the announcement that he and Sting will tour the Dowland songs to Australia in December, the 42-year-old says he always saw parallels between the profound Dowland and the contemporary composer of lyrics such as "De do do do, de dah dah dah, is all I want to say to you".
"It's not only Sting's voice," says the lutenist-guitarist whose career is more closely associated with classical musicians like tenor Andreas Scholl and the late conductor Sergiu Celibidache. "It's his musical 'personality'. His songs to me have the same quality as Dowland and Sting is an Englishman in the end, just as Dowland was. And John Dowland was widely travelled at the time, just as Sting is now."
The early sessions were slow, as Karamazov introduced his famous protege not just to the Renaissance vocal style but also to the technique of playing the lute.
"At first he was like a little baby, but then that little baby started walking very very fast and within a few months he was having great ideas and telling me what to do. He's a really hard worker, very serious and sincere, and made such great progress that we're now performing some lute duets together."
It helped that more than a decade earlier Karamazov himself had made the transition from electric guitar to lute, during his five years working under the Big Top.
"In the Circus we were playing for 10 minutes a night, which meant that I had all day by myself to think about and to play music. Bach's music is so great that it sounds good on any instrument, but even so I was frustrated playing it on the guitar, so I started on the lute.
"Bach was the lure and now, the lute is my mistress."
Not that he's given up the guitar entirely. Like Sting himself, Karamazov is a musical pluralist and the electric guitar will feature prominently on an upcoming solo album he's recording for Decca.
"Electricity is something so natural," he says. "We have electricity within our own bodies, and remember too that Bach himself as an organist played a mechanical instrument."
Meanwhile, he and Sting are working on new material, including some of Sting's own back-catalogue reworked into lute arrangements.
Ironically, it's given the owner of 19 lutes (and counting) the opportunity to listen in depth for the first time to some of Sting's songs.
"His voice was always around as a kid but I never really played any of his songs as I'm doing now.
"Like Dowland himself, he's a great English songwriter, and I'm really enjoying it."
And ultimately, all the showbiz razzamatazz that goes with being the collaborator with one of pop music's brightest stars doesn't faze Karamazov at all.
"I still have to say, music remains a kind of circus to me!"
© Courier Mail by Martin Buzacott