Sting: Songs from the Labyrinth Australian & Asian Tour...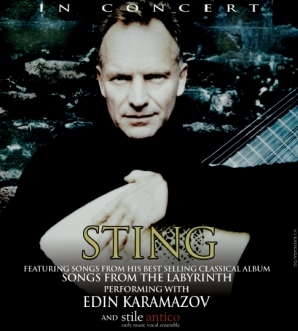 In support of a special edition of the critically-acclaimed album, Songs from the Labyrinth - a personal tribute to late 16th-century Elizabethan composer, John Dowland (1563-1626) - Sting will embark on a tour of Australia and Asia, joined by esteemed lutenist, Edin Karamazov. The tour, which opens at the Sydney Opera House on 30th November, includes performances in Brisbane, Melbourne, Perth, Kuala Lumpur, Singapore, Hong Kong, Tokyo and Osaka (tour itinerary included below).
'Songs from the Labyrinth' began as a Deutsche Grammophon recording project in 2006 which surpassed all expectations by debuting at the top of the classical charts in the US, UK, France, Canada & Germany. The album remained on Billboard's #1 classical charts for fifteen consecutive weeks and was the top selling classical album of both 2006 and 2007. A DVD, entitled 'The Journey and the Labyrinth', followed the CD and was also released on Deutsche Grammophon. It was filmed appropriately at Sting's 16th-century manor house in Wiltshire (Lake House), in the ancient gardens of his home in Italy (Il Palagio), and at a live concert at St Luke's Church in London.
TOUR ITINERARY
30 Nov 2008 - Opera House Concert Hall, Sydney
01 Dec 2008 - City Hall, King George Square, Brisbane
03 Dec 2008 - The Arts Centre, Hamer Hall, Melbourne
05 Dec 2008 - Concert Hall, Perth
07 Dec 2008 - Plenary Hall, Kuala Lumpur
08 Dec 2008 - Esplanade Hall, Singapore
10 Dec 2008 - Jockey Club, Hong Kong
16 Dec 2008 - Orchard Hall, Tokyo
17 Dec 2008 - Orchard Hall, Tokyo
18 Dec 2008 - Orchard Hall, Tokyo
20 Dec 2008 - Festival Hall, Osaka
21 Dec 2008 - Yokohama Pacifico, Yokohama
To accompany the upcoming tour, Deutsche Grammophon will release a special edition of Songs from the Labyrinth which features three bonus tracks, including Sting's own 'Fields of Gold' and 'Message in a Bottle', which he performs with Edin Karamazov on lute, as well as a special, live version of Robert Johnson's 'Have You Seen the Bright Lily Grow', recorded in New York in September 2006.
The original Deutsche Grammophon release also garnered critical success. It was hailed as "a remarkable triumph" by London's The Guardian and "exquisite" by Japan's Sankei newspaper whilst France's Le Monde commented: "the poetry of this album, sung with painstaking care, comes from the exactitude & honesty with which the pop artist renders Dowland's texts".
Sting was first introduced to the music of John Dowland in the early 1980s, and has said that Dowland's music has been "gently haunting" him for more than twenty years. Songs from the Labyrinth honors the life of John Dowland by not only recreating his music, but also his words. Sting incorporates short recitations of a letter John Dowland wrote in 1595 to Queen Elizabeth's Secretary of State, Sir Robert Cecil, into the album, pleading his allegiance to the English throne in the hope of an invitation into the Royal Court, providing further insight to Dowland's life and times.
Edin Karamazov has been Sting's partner in this project from its conception. A protégé of the legendary conductor Sergiu Celibidache, Edin Karamazov began his musical career with the classical guitar, continuing his studies of the Baroque Lute at the Schola Cantorum Basiliensis. His 2003 recording 'Come Heavy Sleep' set new standards for lute playing and, as a soloist, he has performed and recorded with leading international early music ensembles and artists including the Hilliard Ensemble, Hesperion XX, Mala Punica and Andreas Scholl. Newly signed as an exclusive Decca artist, Edin Karamazov's first recording on the label will be released this Autumn; entitled 'The Lute is a Song', the album traces 400 years of lute music from the Renaissance to the present day and features guest artists Kaliopi, Andreas Scholl, Sting and Renée Fleming.
Joining Sting and Edin Karamazov on this tour is the British a cappella choir Stile Antico, who are featured in all the European performances of Songs from the Labyrinth to date, giving vocal accompaniment to some of the more raucous tavern songs and gentle lullabies that are found in Dowland's wide-ranging music. An ensemble in their own right, Stile Antico have won numerous awards for their recordings of 16th and 17th music as well as a Grammy award nomination for Best Small Ensemble Performance. Their next recording, 'Song of Songs', will be released in 2009.