Invisible Sun - The story behind the pictures...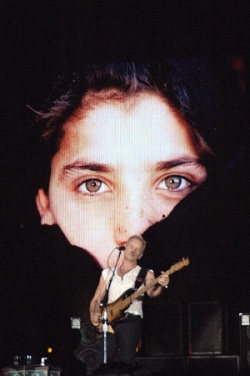 Anyone that has been to one of The Police shows so far this summer cannot have helped but notice the dramatic photo montage that is screened as the band performs 'Invisible Sun'. We've been asked a lot about those pictures and the people in them - where were they taken?; who are they of?; what is their story?
The photographs are the work of Bobby Sager, a close friend of Sting's, and a new breed of entrepreneur turned philanthropist.
From Bobby Sager about Invisible Sun:
I took these photographs while traveling the world with my family doing the work of our foundation. These children are dealing with war, conflict, natural disaster, abuse and displacement. The kids are from Afghanistan, Rwanda, Pakistan, Palestine, Sri Lanka, and Tibet. They are refugees, orphans, child soldiers or just plain kids living in absurdly difficult circumstances. These aren't just random snapshots while walking down the street. I have spent time with many of these children. No filters, just human being to human being.
The images are purposely very up close, "eyeball to eyeball". Hopefully, you will feel you have encountered these kids and not simply looked at their pictures.
Bottom line, these are real children, facing real issues, in some of the most desperate places in the world. It is the pictures of kids living in such dire circumstances who somehow still have a smile in their eyes which gives hope that even in the midst of tremendous hardship, the human spirit finds a way to persevere and overcome; the power of the Invisible Sun.
How can we all help the world's children hold on to their hope?
I hope these photos spark your thinking about finding your own way to help. It needn't be the other side of the world like my family and I do. Take a look right around the corner from where you live. There are so many ways to help.
Concrete baby steps matter.
To view the latest video
click here...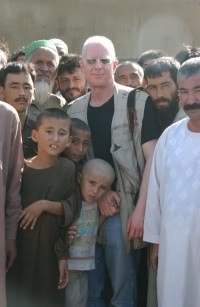 Writing for Men's Journal in 2003, Sting described how he first met Bobby...and later watching Bobby take photos in Nepal.
"I met this cyclone of a man four years ago in Brazil. He wanted me to help him get into the interior of the rain forest, where the tourists don't go, so I gave him a few of my contacts and we kept in touch. Bobby began his working life scalping tickets to Boston Celtics games and ended up buying the hallowed parquet floor of the Boston Garden, before it was torn down. He made a fortune or three before the age of 40, and now he spends his time roaming the planet looking for projects to support where concrete baby steps matter and can make a very big difference. He's funding the reconstruction of a monastery in Bhutan, helping the Dalai Lama's religious scholars learn science, setting up teacher training programs for Afghan refugees, assisting the people of Rwanda in rebuilding their justice system after the appalling massacres that have all but destroyed their country, and running micro enterprise programs in South Africa, Nepal, and Rwanda."
"Our practical philanthropist spends the rest of the day (in Nepal) photographing children in the village and teaching Jake, my son, some of his secrets. He has a breathtaking series of what he calls "children of conflict" portraits, of children in Afghanistan, in refugee camps in Pakistan and Rwanda, of Tibetan refugees in camps in India, and of Palestinian refugees in camps in Lebanon.
I watch him at work, sitting just outside a group of youngsters; he begins an animated conversation with a mischievous glove puppet, a bright yellow duck. He whispers to it to be quiet and well behaved; the duck nods in obedience and then proceeds to attack Bobby, who only barely manages to control his tiny adversary. The children begin to stare at the strange sight of this big man and his recalcitrant duck, laughing uproariously when the duck gets the better of him. They move closer, and the duck starts to tease the children. Some of them run away giggling; others get closer.
"Never start taking pictures immediately," he tells Jake. "You've got to engage them, make them laugh, get close." Without looking through the lens he casually takes some shots of the children laughing. "The closer you get, the better the pictures, but don't ever lose eye contact."
I watch as my son engage with the children, making them laugh, coaxing the shy ones to break out of their shells, until Bobby starts chasing the entire gaggle of children around the town square like and overgrown kid, whooping and roaring as the children scatter hilariously and hide behind their mother's long skirts.
A young man attempts to give Bobby a can of some soft drink, saying something in Nepalese.
"Pema, what's this kid saying? Why's he trying to give me this can?"
Pema talks to the boy, who is about 12. "He says you saved his grandmother's life last year, Mr. Bobby. She needed an operation in Katmandu, and you put her in the helicopter. He says the family wants to thank you, and this is all they have to give you."
The big brash guy from Boston is suddenly quiet and clearly touched by the gesture. My two abiding memories of this extraordinary and complex man will be of him chasing the village kids like the town fool one minute, and the next reduced almost to tears by this simple gift.
THE SAGER FOUNDATION
The Sager Family Traveling Foundation and Roadshow is a 100% self funded, incubator of philanthropic initiatives that in one way or another have to do with leadership; leadership because of the obvious multiplier effect if you get it right, mostly women, because they are such an under-used global resource and conflict areas because of the huge opportunity to make a difference. (Read about an amazing example of concrete baby steps:
http://teamsager.org/CBS.htm
.
Starting in 2000, the Sager family, Bobby, Elaine, Tess and Shane, have lived on and off the road in third world countries, establishing and developing Foundation initiatives.
In a world with so many spectacularly large challenges, people often throw up their hands and say there is nothing they can do. The Sager's answer:
Concrete baby steps matter.