'The Police 1978-1983' by Lynn Goldsmith - available in bookstores now...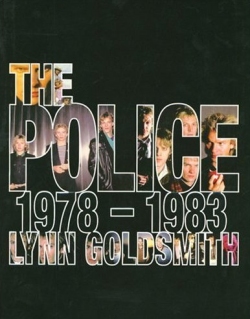 From 1978 until 1983, photographer Lynn Goldsmith had unparalleled access to Sting, Stewart Copeland, and Andy Summers -- The Police -- during their meteoric and sometimes turbulent rise to fame. The intimate portrait of the band that emerges from Goldsmith's color and black-and-white photographs is the closest we will come to being behind the scenes and on the road with The Police during this heady time. All of their Number 1 hits and studio albums were released in this period -- with era-defining songs like 'Roxanne', 'Message in a Bottle', 'Walking on the Moon', 'Synchronicity', and 'Every Little Thing She Does is Magic'.

The Police: 1978 - 1983, published to mark the band's thirtieth anniversary and accompanying world tour, includes dozens of never before published photographs of The Police and individual portraits of each of its principal players. Goldsmith's close working relationship with the band shines through in every image. She takes us into the recording studio at Montserrat, when their pivotal album 'Ghost in the Machine' was coming together; on the road, backstage, in concert, and at home in New York, London, and Los Angeles. Quotes by and about The Police accompany the photographs throughout the book. A first-person narrative by Lynn Goldsmith explores the emotional currency The Police still have 30 years after their inception. An unexpected extra: the book includes a fold-out landscape portrait of Sting lying on a park bench -- actually a mosaic of more than 2,000 photographs of The Police, artfully hand-assembled by Goldsmith. Foreword by Phil Sutcliffe.