Graying and Balding, Inc. To Capture Worldwide Police Tour...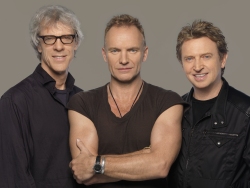 Graying and Balding, Inc has been tapped to document the highly anticipated Police World Tour. Graying & Balding's award-winning production team, led by Jim Gable and Ann Kim, will film The Police as they embark on their first worldwide tour in over 20 years. Concert footage from a variety of stops on the tour will eventually be released as a DVD and will be featured in various television specials.
In July 1990, Ann Kim and Jim Gable formed the production and post-production company, Graying & Balding, Inc., and since then they have produced and edited hundreds of TV commercials, music videos and television programs. Graying & Balding has worked around the world during the last 17 years producing projects for Sting, Michael Jackson, Jennifer Lopez, the Rolling Stones, The Dixie Chicks, and John Legend as well as various TV spots. Their award-winning entertainment specials have been seen all over the world.