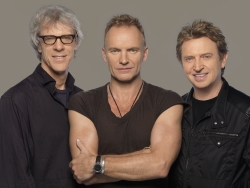 Cop idols...
They said a reunion would be an act of insanity. So what changed their minds? Under intense interrogation, the Police break down and confess all. Interview by Chrissy Iley.
There is only a small industry crowd of 100 or so, gathered in the cavernous dome that is the Staples Center, LA, home to the Grammys. It's a technical run-through. It's boring. Beyoncé has an unfortunate fringe cut that is sucked into her mouth each time she sings the opening strain of Listen, her Dreamgirls anthem. The crowd stare glumly at the giant monitor and her giant flapping fringe.
Then there is the sound of a distinctive drumbeat. Perched behind the big drum kit is Stewart Copeland, last seen on TV in Britain as a gauche judge on the reality-TV show Just the Two of Us; last seen on stage properly with the Police over 20 years ago. You can discern concentration on his face. There's an intensity a long way from the languid arrogance of his TV persona. When Sting and Andy Summers come on, a wave of excitement erupts through the small crowd, which rises to its feet. Sting says: "It's been a long time. It's good to be back." There is a nervousness in the way he says it that draws you in.
They start to play 'Roxanne'. Sting struts, and you don't notice all those years that have passed. From a distance his hair is a halo of blond, his body lithe, his bottom high and round. He has the same slinky moves. The band is an odd-looking trio: Copeland tall, gangly, no bum at all; and Andy Summers, short, his face - once as pretty as a pussy cat's - impossibly young-looking for 64, a decade older than Sting. The music and its power are extraordinary. Whatever trauma they have inflicted on each other, the songs remain and they seem effortless, even affectionate with each other.
Backstage after rehearsal, everyone is excited. The band is jumpy, a box of playful puppies, though not from the same litter. Andy exhales: "Wasn't it great? Who'd believe that after all those years I just slipped back as if it was yesterday. It was really emotional." Sting looks at him and says: "You've got groceries on your mouth." Sheepishly, Summers wipes his lips clear of a large sandwich crumb.
Copeland, who seemed the most determined on stage, is the most detached off. He's on his BlackBerry and talking on his Bluetooth headset. Sting is now in a tight-fitted cashmere coat and hat. He hugs me hello and his wife, Trudie, comes up. "Wasn't it so exciting?" She presses my hand. She had wafted into the auditorium earlier in a black coat dress and boots, with Robert Downey Jr at her heels. He told me in an interview once how much he loves Sting.
The next day, their Grammy opening performance thrills America. The secret is out and they are riding high. We go backstage after the event. Sting is wearing a satin suit. Is this Sting of the Police, or Sting of Sting? "It's Police Sting, or a bit like him, anyway. I think I'm more mellow now, but I did enter that persona for the performances.
"I was a hard case back then. I come from Newcastle," he says, all glinty-eyed, knowing I too come from Newcastle, where men are hard and don't cry. They wear T-shirts when it snows. "I used to live up to my name. My silly name."
He's happy and giggly. "Why have I done this? I've done this because it's some kind of healing."
You do wonder why. And is this answer enough? He ran away from the Police when they were the bestselling band in the world. You might wonder why he did that too. But he needed the freedom to write songs without the fighting. So why now? Certainly not because he needs the money or acclaim. His lute album, 'Songs from the Labyrinth', topped the US classical charts for 13 weeks and the UK charts for four. He has a sumptuous life, a comfortable one, but he doesn't thrive on just comfort. He needs the highs and lows.
He realises Trudie is missing and she must be found as the Police and its people, in which I am included, must attend a party honouring Herb Alpert and Jerry Moss, two sweet old chaps who founded A&M Records to which the Police were signed. After the party, I don't sleep. I lie in bed with Copeland's film, 'Everybody Stares: The Police Inside Out', playing on my laptop, Summers' memoir 'One Train Later' in front of me, and the transcriptions of several Sting interviews I've done over the years to the other side. I am piecing the fragments together. Not so much of why they fell apart, but what connected them in the first place? These three alpha males from totally different geographical and artistic places fighting for musical territory. Maybe the fight was the bond. It was Copeland's band first. He asked Sting to join when he saw him play with the jazz-fusion band Last Exit. Then they enlisted Summers, known to both of them through his pedigree as a rock guitarist. Almost instantly they locked into a power struggle: the founder member, the more experienced player and the front-man star.
The next day they play the Whisky club on Sunset. Here they make an official announcement that they will tour the world. An archive Sting interview is being played, with him saying: "If I ever reformed the Police, I'd be certified insane." Sting announces: "Yes, I have the white coat." They play 'Message in a Bottle'. News hacks and musos alike hold out their mobile phones, sending the song to whoever is No 1 on their speed dial. I do that too. They say they are not going to fight and they only fought because they cared. They say as individuals they no longer have the need to express themselves so totally in every song. Everyone is smiling.
Arthur Fogel from the promoters Live Nation scoops me into his car to await the band in a buttery-coloured suite at the Four Seasons. He was the mastermind behind last year's Madonna tour and previously the U2 tour, which is said to have grossed over