'Songs From The Labyrinth' European tour - Latest Fan Club ticket Sale info...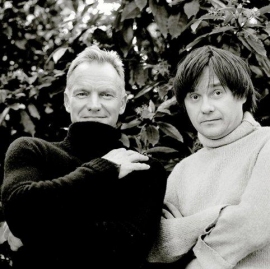 TICKET UPDATE: The Vienna and Florence fan club ticket sales will take place on January 18 at noon CET.
Sting, joined by esteemed lutenist, Edin Karamazov, has announced a European tour in support of his latest CD, 'Songs From the Labyrinth' - a personal tribute to acclaimed 17th century Elizabethan composer, John Dowland (1563-1626).
The Deutsche Grammophon release has garnered both critical & commercial success, having debuted at the top of the classical charts, worldwide. Hailed by The Guardian (London) as "a remarkable triumph," and lauded by the prestigious Le Monde ("the poetry of this album, sung with painstaking care, comes from the exactitude & honesty with which the pop artist renders Dowland's texts"), the album has resonated with audiences as an inspired and exceptional effort.
Sting was first introduced to the music of John Dowland in the early 1980s, and has said that Dowlands' music has been "gently haunting" him for more than twenty years. 'Songs from the Labyrinth' honors the life of John Dowland by not only recreating his music, but also his words. Sting incorporates into the album short recitations of a letter John Dowland wrote in 1595 to Queen Elizabeth's Secretary of State, Sir Robert Cecil, pleading his allegiance to the English throne in the hope of an invitation into the Royal Court, providing further insight to Dowland's life and times.
European Dates
18/02/2007 Salle Pleyel, Paris, France
19/02/2007 Stadtcasino, Basel, Switzerland
21/02/2007 Teatro Verdi, Florence, Italy
22/02/2006 Auditorium Parco Della Musica, Rome, Italy
23/02/2007 Teatro Arcimboldi, Milan, Italy
25/02/2007 Herkulessaal, Munich, Germany
27/02/2007 Jahrunderthalle, Frankfurt, Germany
28/02/2007 Musikhalle, Hamburg, Germany
01/03/2007 Concertgebouw, Amsterdam, Holland
03/03/2007 Queen Elizabeth Hall, Antwerp, Belgium
05/03/2007 Philharmonie, Berlin, Germany
07/03/2007 Tonhalle, Dusseldorf, Germany
08/03/2007 Festspielhaus, Baden Baden, Germany
10/03/2007 Konzerthaus, Vienna, Austria
11/03/2007 Meistersingerhalle, Nürnberg, Germany
12/03/2007 Beethovensaal, Stuttgart, Germany
Tickets for the shows in Germany and Austria are already on sale at
http://www.eventim.de
but Sting.com has a ticket hold for these shows and there will be a members only ticket sale for the upcoming European tour dates in Germany beginning on Monday, December 18 at noon local time.
The Amsterdam concert will go on presale to Sting.com members on Thursday, December 21 at noon (local time.
The Basel show is expected to go on sale on Christmas Eve. Due to the holidays the fan club sales for the Swiss show and the French, Italian, Austrian and Belgian shows will take place after the holidays.
For further information, continue to check out
www.sting.com
for official news.