LA Philharmonic presents Sting: 'Songs From The Labyrinth'. One Night Only at Walt Disney Concert Hall...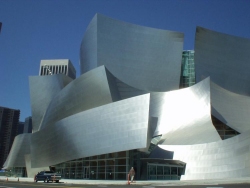 LA PHIL PRESENTS STING: SONGS FROM THE LABYRINTH ONE-NIGHT-ONLY AT WALT DISNEY CONCERT HALL
Sting Accompanied by Lutenist Edin Karamazov and The Concord Ensemble
THURSDAY, JANUARY 11, 2007, AT 8PM
Sting debuts at Walt Disney Concert Hall for a one-night-only performance featuring music from his latest release, Songs from the Labyrinth, a personal tribute to acclaimed 17th century Elizabethian songwriter John Dowland. Esteemed lutenist Edin Karamazov and choir, The Concord Ensemble, join Sting for this intimate performance on Thursday, January 11, 2007 at 8 p.m.
Sting was first introduced to the music of John Dowland in the early 1980s, and has confessed that his music has been "gently haunting" him for more than twenty years. 'Songs from the Labyrinth' honors the life of John Dowland by not only recreating his music, but also his words. Sting incorporates into the album short recitations of a letter John Dowland wrote in 1595 to Queen Elizabeth's Secretary of State, Sir Robert Cecil, pleading his allegiance to the English throne in the hope of an invitation into the Royal Court, giving listeners a faithful glimpse into Dowland's life and times.
Called "vivid" and "romantic" by The Wall Street Journal and "a remarkable triumph" by The Guardian (London), 'Songs from the Labyrinth' was released on October 10 on the Deutsche Grammophon label and debuted at #1 on Billboard's Traditional Classical Chart and Classical Overall Chart, while also cracking the Top 200 Album Chart at #37. Resonating with audiences as an inspired and exceptional effort, the record also debuted at #1 on the classical charts in Canada, England, France and Germany, while remaining atop the US classical charts for eight consecutive weeks now.
Composer, singer, actor, activist - STING has won universal acclaim in all these roles, but he defies easy labeling. A milkman's son from Newcastle, England, Sting was a teacher, soccer coach and ditchdigger before turning to music. Inspired equally by jazz and the Beatles (eclectic tastes that would prove prophetic), he met Stewart Copeland and they, along with guitarist Andy Summers, formed the Police in 1977. The band quickly became a success both in the UK and U.S. scoring several No. 1 hits including 'Roxanne', 'Every Breath You Take', 'King of Pain', and 'Every Little Thing She Does Is Magic'. They earned five Grammy Awards and two Brits, and in 2003 they were inducted into The Rock and Roll Hall of Fame. The trio's live work forecast the astonishing inventiveness and range of influences that Sting would realize fully in his solo career. With the release of 'Dream of the Blue Turtles' in 1985, followed by 'Bring On The Night', 'Nothing Like The Sun', 'The Soul Cages', 'Ten Summoner's Tales', 'Mercury Falling', 'Brand New Day' and 'All This Time', Sting has evolved into one of the world's most distinctive and highly respected performers, collecting as a solo performer an additional 11 Grammys, 2 Brits, a Golden Globe, an Emmy, three Oscar nominations, Billboard Magazine's Century Award, and MusiCares 2004 Person of the Year. He has remained at the forefront of the public consciousness for 4 decades and has written some of the most enduring songs of our time, a talent perfectly showcased by his last record Sacred Love, released to both critical and commercial success. Most recently, Sting ventures into "new" musical territory with an album featuring the music of acclaimed Elizabethan songwriter, John Dowland (1563-1626) entitled 'Songs From the Labyrinth'. He's also published his memoir entitled, Broken Music, has appeared in 15 films and in 1989 starred in a Broadway play the 'Threepenny Opera'. Sting's support for human rights organization like the Rainforest Foundation, Amnesty International, and Live Aid mirrors his art in its universal outreach. Along with wife Trudie Styler, Sting founded the Rainforest Foundation in 1989 to protect both the world's rain forests and the indigenous peoples who live there. Together, they have raised more than 19 million dollars with their 14 benefit concerts to raise funds and awareness of our planet's endangered resources. Since its inception, the Rainforest Foundation has expanded to a network of interconnected organizations working in 18 countries around the globe.
EDIN KARAMAZOV'S thrilling virtuoso performances on the lute and guitar have garnered rave reviews and unprecedented critical acclaim in America and Europe. As a soloist he has performed and recorded with leading international early music ensembles and artists including the Hilliard Ensemble, Hesperion XX, Mala Punica, Orpheus Chamber Orchestra and Andreas Scholl. A consummate interpreter and master technician on numerous early and contemporary stringed instruments, and an outstanding recital artist, Edin Karamazov has appeared at the Concertgebouw, the Wigmore Hall, the Berliner Philharmonie, the Konzerthaus Wien, among many others. A protegé of Sergiu Celibidache, Edin Karamazov began his musical career with the classical guitar and was awarded First Prizes at four guitar competitions all before his seventeenth birthday. He continued his studies of the Baroque Lute with Hopkinson Smith at the Scola Cantorum Basiliensis. Edin Karamazov plays several plucked instruments of various cultures and epoches and remains committed to exploring the use of lutes in modern music and contemporary improvisational contexts. Critics claim his current solo album, 'Come Heavy Sleep', has set new standards for lute playing.
Founded in 1997 as an a cappella group of male voices, THE CONCORD ENSEMBLE has received numerous accolades, including the Grand Prize in the First Early Music America/Dorian Recording Competition, and the Competition in Performance of Hispano American Music. The Ensemble's debut recording, The Victory of Santiago: Voices of Renaissance Spain earned them the prized "5-Star" distinction in Goldberg Magazine. Since making Los Angeles their home base in 2003, The Concord Ensemble has gone co-ed, allowing the group to explore and present the broadest possible spectrum of superlative mixed and equal-voiced musical literature from the Medieval to the present day. The men of the ensemble recently performed concerts of a cappella paschal music of Renaissance Mexico, music of Jan Pieterszoon Sweelinck, Notre-Dame style polyphony by Pérotin and Stephen Hartke, and a mix offering of medieval and modern carols. The ladies of the ensemble presented a program of 17th-century Italian virtuoso vocal music of the concerto delle donne. Concord's mixed configuration has also been busy, presenting an all-Tallis program in celebration of the composer's 500th birthday, staged performances of Dido and Aeneas, and concerts of chamber music of John Blow, Henry Purcell, and their contemporaries in sold out performances for Musica Angelica Baroque Orchestra. The Concord Ensemble has toured extensively through the United States and in Europe, with performances in Los Angeles, San Francisco, Dallas, Cleveland, Dayton, Madison, Philadelphia, Washington, D.C., and Regensburg, Germany, to name but a few. Highlights for the 2007-2008 season include a return to the Bloomington Early Music Festival, a project of music from the Munich Hofkapelle of Orlando di Lasso with Piffaro, and more concerts with the baroque ensemble Musica Angelica featuring salon music of the American forefathers.
The Los Angeles Philharmonic Association, under Music Director Esa-Pekka Salonen, presents the finest in orchestral and chamber music, recitals, new music, jazz, world music and holiday concerts at two of the most remarkable places anywhere to experience music -- Walt Disney Concert Hall and the Hollywood Bowl. In addition to a 30-week winter subscription season at Walt Disney Concert Hall, the LA Phil presents a 12-week summer festival at the legendary Hollywood Bowl, summer home of the Los Angeles Philharmonic and home of the Hollywood Bowl Orchestra. In fulfilling its commitment to the community, the Association's involvement with Los Angeles extends to educational programs, community concerts and children's programming, ever seeking to provide inspiration and delight to the broadest possible audience.