Sting - XM Artist Confidential: Live From The Labyrinth - Exclusively on iTunes...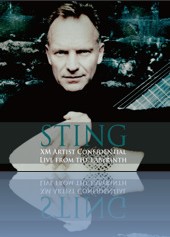 Three new live tracks from Sting and Edin Karamazov's performance - 'Message In A Bottle', 'Fields Of Gold' and Blues Legend Robert Johnson's 'Hellhound On My Trail'.
Enjoy three live tracks of newly arranged encores in the style of Songs from the Labyrinth - available exclusively at iTunes. Sting and renowned lutenist Edin Karmazov performed 'Fields of Gold', 'Message in a Bottle' and blues legend Robert Johnson's 'Hellhound On My Trail' as part of their appearance on XM Satellite Radio's "Artist Confidential" series on October 9th from the Allen Room at Jazz At Lincoln Center. This exciting release showcases both the magic and intimacy of the performance.
Songs from the Labyrinth - Sting's personal tribute to Elizabethan composer John Dowland - was released by Deutsche Grammophon on October 10 and has been met with critical praise and great success. The album has been called "vivid" and "romantic" by The Wall Street Journal, as it continues to dominate the Billboard classical chart.
Preview the tracks here...
Fields of Gold
Hellhound On My Trail
Message In A Bottle