Sting & Edin surprise fundraisers in New York...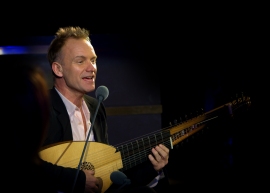 New York, NY - Last night, the Rainbow Room in Rockefeller Center was buzzing with energy as the Children's Tumor Foundation hosted its 21st annual benefit dinner. With a sold out event of over 500 people at the famous venue, the night was dedicated not only to raising funds for neurofibromatosis (NF) research, but also to recognize the contributions of three special people.
The Children's Humanitarian Award, which recognizes those who have made a material impact on the lives of children, was given to Dr. David Feldman, Chief of Pediatric Orthopedic Surgery, and Mr. Nicholas Bouras, President of Bouras Industries. The CTF Ambassador Award, which is given to a person who has overcome the many challenges of NF, was awarded to Brian Behrens, Director in the Debt Capital Markets Group for Cantor Fitzgerald.
The crowd was entertained with a surprise appearance by Sting, accompanied by renowned lutenist, Edin Karamazov, who generously agreed to fill in on very short notice, having been in town to promote their current album, 'Songs From The Labyrinth' - a collection of music from Elizabethan composer, John Dowland. The critically acclaimed album has remained on the top of the classical charts for four consecutive weeks now. "Sting's appearance capped off a wonderful night and made an already special event a truly memorable experience for our guests and honorees. We can't thank him & Edin enough," said George Orfanakos, Vice President.
Through the amazing support of the community, this year's Children's Tumor Foundation Benefit Dinner raised over 0,000, with net income of 9,000. John Risner, President, said, "It is gratifying that so many old friends and new supporters joined us in honoring three outstanding individuals. This money will be invested in our newly launched Drug Discovery Initiative. The generosity of the attendees will directly result in five promising compounds being tested for their effectiveness on NF."
About the Children's Tumor Foundation:
The Children's Tumor Foundation is the leading not-for-profit health organization dedicated to improving the health and well being of the 1 in 3,500 individuals living with neurofibromatosis by funding research to enable effective treatments and ultimately a cure for NF. For more information about the Children's Tumor Foundation, please visit
www.ctf.org
or call 212-344-6633.