Sting writes foreword for new book - 'Yoga Beyond Belief'...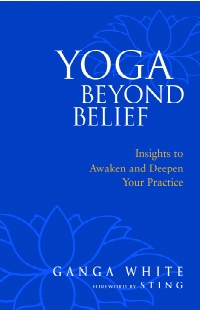 Ganga White of the White Lotus Foundation releases his new book 'Yoga Beyond Belief' in December. His friend Sting - who has written an extensive 1,200 word foreword for the book - commented "'Yoga Beyond Belief' will strike a chord with anyone seeking a new level of awakening and freedom in yoga and in their lives. This book offers a flexible and modern perspective that is needed more than ever to meet and live in these times of accelerating change."
'Yoga Beyond Belief' integrates scientific and practical approaches into a fresh perspective on this discipline. Based on a lifetime of insights and enlivened by Ganga White's storytelling skills, this "cross-platform"guide begins by explaining the core principles of the many branches of yoga. This book also sheds light on the inner processes in the physical practices that most produce remarkable results in health and well-being. White shows the pitfalls of regimented systems and offers seasoned advice on how students at any skill level can customize their yoga practice for physical and spiritual transformation. 'Yoga Beyond Belief' concludes by going beyond the physical aspects to the heart of yoga and spirituality. This collection of valuable insights and anecdotes gleaned from a lifetime of exploration, practice, study and teaching will appeal to anyone practicing yoga today.
Here is a sneak preview of Sting's foreword - entitled - 'The Yogi and the Shower Singer'
"It may surprise you to hear that someone who sings for a living like I do would enjoy singing in the shower as much as anybody else.

My shower, I suppose like a lot of peoples' showers, has the kind of hard surface that reflects the notes back at you with a satisfying and friendly echo almost as effectively as the walls of a church or an underground cavern or even the electronic reverb in a professional studio.

Admittedly I don't sing what anyone would recognize as songs per se, nor I might add do I use the shower fitting as a fantasy microphone, but instead limit myself to vocalizing long resonant tones. I will sustain a single OM for as long as my lungs can hold out, and advance semitone by semitone of the chromatic scale, beginning near the bottom of my range and gradually rising high enough for the sound to disturb the Labradors asleep in the kitchen below. When they start to howl in sympathy (or agony, I can't tell which,) I know it's time to dry off, shave, brush my teeth, clothe myself and start the day.

As I enter the kitchen the youngest of my six children will greet me ironically while seated cross-legged at the breakfast table, chanting their own tuneless grand guttural OMs with their eyes crossed, and their little hands flipping the bird in irreverent imitation of those mudras they've watched me assume at the end of my yoga practice..."
For the rest, you'll need to check out the 'Yoga Beyond Belief', published by North Atlantic Books.
You can order a copy of the book direct through the
White Lotus website
for the sum of post paid in the USA. Alternatively, you can pre-order the book from Amazon using the link below.
You might also like to revisit
Ganga's 1995 interview with Sting from Yoga Journal
magazine.
For details of how to enter our draw to win a copy of "Yoga Beyond Belief" signed by Ganga White, log into the community section of the website and visit the "Contests" message board.