Tony Bennett's new album, 'Duets - An American Classic', gets UK release...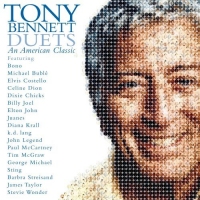 Tony Bennett marked his 80th Birthday this year, launching the beginning of a multi-tiered celebration honouring this milestone. RPM Records/Columbia Records are proud to announce the UK release of the new album 'TONY BENNETT: DUETS/An American Classic', which hit UK stores on Monday 30th October.
Recorded live in the studio, the CD features Tony performing duets of his best loved songs with many of the top names in music: Bono, Michael Buble, Elvis Costello, Dixie Chicks, Juanes, Billy Joel, Diana Krall, k.d. lang, John Legend, Paul McCartney, George Michael, Sting, Barbra Streisand, James Taylor and Stevie Wonder. Instrumental musical guests on the album include trumpeter Chris Botti and violinist Pinchas Zukerman.
Tony Bennett is as popular now as he's ever been - more so perhaps - as his loyal fans now span the MTV generation as well as the original '50s and '60s crowd. The epitome of 'cool', Tony Bennett has always had an effortlessness about him - and this new album of duets with some of the biggest recording artists in the world demonstrates this has not diminished with age...
"Each duet artist brought their own soul and sensibility to their song performance and it was a wonderful gift for my birthday to be able to record with these talented musicians," commented Tony.
Courtesy of Sony/BMG we have five copies of the album to give away. If you would like to enter our prize draw for one of these great CDs this is what you need to do... Email your name and address to daveandwendy@sting.com no later than midnight on November 15 and tell us the name of the city where Tony Bennett was born. The first five correct answers drawn after the closing date each win a copy of the CD. It's that simple!
Track Listing for TONY BENNETT: DUETS/An American Classic
1. Lullaby On Broadway - Duet with Dixie Chicks
2. Smile - Duet with Barbra Streisand
3. Put On A Happy Face - Duet with James Taylor
4. The Very Thought Of You - Duet with Paul McCartney
5. The Shadow Of Your Smile - Duet with Juanes
6. Rags To Riches - Duet with Elton John
7. The Good Life - Duet with Billy Joel
8. Cold, Cold Heart - Duet with Tim McGraw
9. If I Ruled The World - Duet with Celine Dion
10. The Best Is Yet To Come - Duet with Diana Krall
11. For Once In My Life - Duet with Stevie Wonder
12. Are You Having Any Fun - Duet with Elvis Costello
13. Because Of You - Duet with kd lang
14. Just In Time - Duet with Michael Buble
15. Boulevard Of Broken Dreams - Duet with Sting
16. I Wanna Be Around - Duet with Bono
17. Sing, You Sinners - Duet with John Legend
18. I Left My Heart in San Francisco
19. How Do You Keep The Music Playing - Duet with George Michael
Available for Order:

AND