Critical acclaim for 'Songs From The Labyrinth'...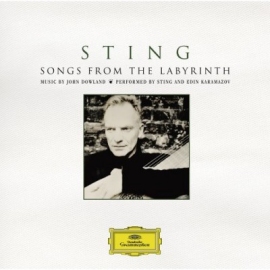 "He's treated the project with immense seriousness, soaking himself in the history and culture of the period ...one of the most refreshing things about this CD is the complete lack of classical or 'early music' fustiness ...all credit to Sting for turning this fascinating figure into a living, breathing contemporary."
Daily Telegraph, London, October 2006
"It has taken him about 400 years, but the Elizabethan composer John Dowland has finally achieved a number one hit, with the help of a 21st-century superstar."
Independent, London, October 2006
"...he melts into the dreamy Flow, My Tears' and there's real joy in his easy way with The Lowest Trees Have Tops and its rapturous refrain: And love is love / In beggars and in kings. Karamazov accompanies with self-absorbed elan..."
The Observer, London, October 2006
"Karamazov's dazzling lute playing (the two Fantasies on this recording are spectacular) is suitably brash and improvisatory, providing the perfect complement to Sting's 'unschooled tenor' ...he and Karamazov manage to bring Dowland before the listener as a living, breathing person in a way more orthodox recordings often fail to do. The success of this enterprise almost defies logic - it's like one of those Buddhist koans that confounds the mind in order to reach the truth."
Gramophone Awards Issue, London, November 2006
"...a remarkable triumph ...Karamazov is a virtuoso..."
The Guardian, London, October 2006
"Karamazov's playing was reliably superb..."
Daily Telegraph, London, October 2006
"...there was a clearly discernible link between the millionaire pop star of the 21st century and the wandering minstrel of yore... it was surprisingly good fun."
The Times, London, October 2006
"Sting's self-confessedly 'rough tenor' makes for an intimate performance. He plays up with gusto to the invitation offered by 'hellish jarring sounds' in In Darkness Let Me Dwell."
Financial Times, London, September 2006
"There is much to admire in his [Sting's] approach - a keen feel for language, an acute musical intelligence and an absence of the plummy Foreign Office accent and reedy pitch that turns most formal Dowland recitals into diplomatic ordeals. Above all, the sympathy between singer and song is vivid and pronounced."
Evening Standard, London, September 2006
"Dowland is it... Dowland's very natural style doesn't necessarily require an operatically trained voice. Sting's warm, slightly hoarse rasp, so familiar in other contexts, fits well."
Sunday Telegraph, London, October 2006
"...15 songs by Dowland are delivered with an urgency not often found on recordings of early music... imagine vivid, romantic, often melancholy folk music with Mr. Karamazov's rich, ringing lute instead of an acoustic guitar."
Wall Street Journal, New York, October 2006
"Sting's sometimes traditional, sometimes creative interpretations of about a dozen Dowland songs make it abundantly clear that Dowland was a dynamic artist... Sting's distinctive voice melds smoothly into an old-fashioned rendering of a song such as 'Clear or Cloudy'... Sting's voice, often beautiful, sounds even better when harmonizing with itself, as on 'Can She Excuse My Wrongs'... On 'Labyrinth', Sting is sometimes silky, sometimes whispery but always focused on what the song requires... this is a strong album and a welcome diversion for the pop singer... in mixing the modern with the almost medieval, Sting may do more to introduce rock fans to the pleasures of art music."
Washington Times, October 2006
"Sting is now a true Renaissance man. As in Elizabethan, with lutes and the music of 16th-century composer John Dowland. The pop singer of today tackles what he rightly sees as the pop music of the late 1500s - with substantial and well-wrought help from Serbian lutenist Edin Karamazov..."
Los Angeles Daily News, October 2006
"Sting stays true to the phrasing of the originals, expertly switching between 30-second instrumentals and doleful laments of pop-song length. 'Fine Knack for Ladies' dials down Edin Karamazov's omnipresent lute for multitracked vocals, while 'Clear or Cloudy' features a breathy, upbeat melody around which Sting clearly relishes wrapping his husky pipes."
The Denver Post, October 2006
"...these arrangements evoke both sadness and light, while his honeyed-with-age vocals have never sounded better."
The Press of Atlantic City, October 2006
"...as the album progresses, you appreciate more and more how much Sting's pop talents and his very personal approach allow him to penetrate and animate the inner emotions and meanings of Dowland's timeless music."
Barnes & Noble, New York, October 2006
"...one listens to [Sting] with pleasure, for hours on end... Karamazov is one of the day's greatest players of his instrument. His virtuosic, colourful lute solos on this album are islands of delight."
Frankfurter Allgemeine Zeitung, October 2006
"Sting's modernization is discreetly restrained. Especially in light of everything that could have happened along the way, it succeeds: this journey back to a golden age..."
Die Welt, Berlin, October 2006
"Sting carried away the nonplussed yet moved listeners on a journey through time, a time warp which extended from Dowland and the Elizabethan era of 400 years ago to the 21st century... when the oh-so-cool-and-hip Berlin audience remains silent for several minutes after hearing a song like Come Heavy Sleep, that's when the power of this music becomes evident. Such numbers as Come Again even have the potential to enter today's hit charts..."
Spiegel online, Berlin, October 2006
"Sting makes Dowland's Elizabethan sound-world seem incredibly modern. Deeply intimate ballads, whose compositional complexity comes up new-minted by Sting's vocal plainness with lute accompaniment."
Stern, Hamburg, September 2006
"Now with lutenist Edin Karamazov... he has created refreshingly new interpretations of some of [Dowland's] most beautiful songs. Sting treats these sometimes melancholy, sometimes joyful Renaissance pieces like pop songs from 1600 and in the process gets closer to Dowland than many trained concert singers."
Stereo, Euskirchen, November 2006
"... he sings them with such laid-back artlessness yet seriousness, supported solely by the soft sounds of the lute, with his raw voice exposed directly to the microphone. I liked it - the bitter, melancholy beauty of the songs reveals itself without the use of 'messa di voice'..."
Audio, Stuttgart, November 2006
"Sting is of course one of those artists who must be taken seriously. To confine him to pop music would therefore be ridiculous... The unpretentious songs The lowest trees and Come again are totally suited to Sting; here he can best display his charisma."
FonoForum, Euskirchen, November 2006
"Sting's slow and deep-sung interpretations are a real alternative to the many counter-tenor [versions]. ...Edin Karamazov's lute-playing is virtuosic."
Stereoplay, Stuttgart, November 2006
"Sting has not recorded a pop album with crossover elements here but a CD of dyed-in-the-wool Renaissance music. But of the kind only he can do... without any pop gimmickry... It works. This is not something made for the hit parade, not for background listening, but wonderful music for quiet, grey Sunday autumn afternoons."
Hannoversche Allgemeine Zeitung, October 2006
"400 years separate Sting and John Dowland, and yet the bassist with the distinctive voice and the 17th-century lute virtuoso are kindred souls. The parallels are striking: grand songs, impressive ballads, each artist already immortal in his own lifetime. Now one legend creates a monument to the other. Sting's new album Songs from the Labyrinth is not only the soundtrack to Dowland's life - it's also an encounter between two genuine pop stars. Dowland's songs are of timeless beauty and full of emotion. They have lost nothing of their appeal and - thanks to Sting - sound as fresh as if they had been written not 400 years ago but yesterday."
Fränkische Nachrichten, Wertheim, September 2006
"[A] letter in which the composer speaks of his eventful life of wandering and his difficulties with the English court serves as a connecting thread in this dramaturgically clever programme lasting three-quarters of an hour that ends with the great, ground-breaking song In Darkness Let Me Dwell... [Sting's] approach is fascinating: a serious and internally consistent interpretation. He articulates so that one can understand every word."
Neue Zürcher Zeitung, October 2006
"...musically convincing... "
Bühne, Vienna, October 2006
"The disc is a subtly laid-out journey... and sounds all of a piece... Singing with painstaking care, the poetry of this album derives from the pop artist's meticulous rendering of Dowland's text and the unaffected honesty with which he slips into this early songwriter's footsteps."
Le Monde, Paris, October 2006
"It's impossible not to picture an imaginary vibro-lute when listening to Edin Karamazov plucking Walsingham on the threshold of this dreamy "Labyrinth", or not to view in this voyage by Sting among his distant forebears "something new for the decadent"... The "hellish jarring sounds" and the cries for death of In Darkness Let Me Dwell are those of an interpreter who is inside this music. Divine gems like Can she excuse my wrongs? and Come again resemble fruit on a tree: spontaneous, juicy, to be savoured recklessly... All the essentials are there: a calm and beautiful nature, modesty without meanness, an innocence far removed from what our "divas" ordinarily inflict on early music."
Diapason, Paris, October 2006
"...Edin Karamazov [is] one of the most distinguished lutenists in Europe... Sting has created an album which is totally unique in his career... This disc may well surprise his fans for he has created a special atmophere for lovers of classical music."
Iberia-Universal, Madrid, October 2006