New Deutsche Grammophon CD Debuts at #1 on Billboard's Traditional Classical Chart and Classical Overall Chart.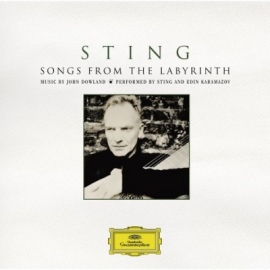 Sting's latest CD, 'Songs From the Labyrinth' - a personal tribute to Elizabethan composer John Dowland - lands at the top of the classical charts both domestically and overseas. Called "vivid" and "romantic" by The Wall Street Journal, the disc was released October 10th from Deutsche Grammophon and debuted at #1 on Billboard's Traditional Classical Chart and Classical Overall Chart, while also cracking the Top 200 Album Chart at #37. Resonating with audiences as an inspired and exceptional effort, the record also debuted at #1 on the classical charts in Canada, England, France and Germany.
'Songs From The Labyrinth' also boasts the masterful playing of renowned lutenist Edin Karamazov. On October 9th, Sting and Karamazov celebrated the release with an exclusive performance at New York City's Allen Room in Jazz At Lincoln Center. An audience comprised of fans and invited guests were treated to an evening of intimate music recorded for XM Satellite Radio's series, "Artist Confidential," which premiered the week of October 16th. Showcasing both the album as well as a few newly arranged encores of Sting favorites ('Fields of Gold' and 'Message in a Bottle'), the show was a magical one for all in attendance.
Sting and Karamazov's media tour continued with appearances on The Today Show, CBS Sunday Morning and NBC's primetime hit, Studio 60 On The Sunset Strip. The duo was also profiled on NPR's Morning Edition, as well as the Wall Street Journal, The Los Angeles Times, USA Today, Early Music America and BBC Music Magazine. The CD has subsequently dominated the Amazon and BarnesandNoble.com charts ever since.
The evocative album of songs, music for lute, and spoken-word interludes has already generated wide critical acclaim, with The Guardian proclaiming Sting's latest artistic venture "a remarkable triumph."
"He's treated the project with immense seriousness, soaking himself in the history and culture of the period," reported The Daily Telegraph. "One of the most refreshing things about this CD is the complete lack of classical or 'early music' fustiness...all credit to Sting for turning this fascinating figure into a living, breathing contemporary."
Last week, Sting celebrated his first classical release with an evening of "surprisingly good fun" (Times of London) at the beautifully converted Hawksmoor church of St. Luke's in London, showcasing both the album and adding a few mischievous encores of his own songs ('Fields of Gold' and 'Message in a Bottle'). "He melts into the dreamy 'Flow, My Tears,' and there's real joy in his easy way with 'The Lowest Trees Have Tops' and it rapturous refrain" (The Observer). Edin Karamazov's lute-playing was, as usual, "reliably superb" (The Daily Telegraph), and Sting was "most convincing when he was able to use his familiar high, husky tone, as in 'Weep You No More, Sad Fountains,' where his sustained notes floated over Karamazov's melancholic pluckings to haunting effect" (The Guardian).
Early reviews of the CD itself have been extremely positive...
"15 songs by Dowland are delivered with an urgency not often found on recordings of early music... vivid, romantic, often melancholy folk music with Mr. Karamazov's rich, ringing lute" (Wall Street Journal). Sting is "an interpreter who is inside this music," wrote the critic of leading reviews journal Diapason in France, while the French newspaper Le Monde proclaimed: "The CD takes us on a journey that has been carefully planned... you take it in at a single hearing." Great for Sting - and John Dowland: "If Dowland isn't exactly as well-known as the former Police frontman, Sting's new album, with its well considered and evocative readings... may change that" (Los Angeles Times). The Press of Atlantic City reported "...these arrangements evoke both sadness and light, while his honeyed-with-age vocals have never sounded better."
Several reviews commented on the nature of the project - "...Bolder than most crossover, Sting's Dowland project not only opens a modern window onto the Renaissance, it sheds rare insight into a fertile mind and expansive personality" (The Palm Beach Post) and that "What makes 'Songs From the Labyrinth' worthwhile is that it breaks down the perceived barriers between what we consider modern and what we might label old-fashioned" (The Buffalo News). For good measure the Los Angeles Daily News commended Sting's bravery commenting "He's out on a limb here, in territory too dangerous for almost every other rock star out there. And danger is what true rock, and in this case Elizabethan pop, is all about."
The writer in the doyen of record magazines, Gramophone, was also convinced: "I really think both he and Karamazov manage to bring Dowland before the listener as a living, breathing person in a way more orthodox recordings often fail to do." Songs From the Labyrinth has also begun to experience great success on the music charts. The album has charted in the US on:
#1 on Billboards Classical Traditional Chart
#1 on Billboards Classical Overall Chart
#11 on Billboards Top Internet Chart
#37 on Billboards Top 200 Chart
#1 on Amazon's Best Sellers Chart (as of 10/18)
#1 on Barnes and Noble.com Best Sellers Chart (as of 10/18)
It is also the #1 Classical Record in the UK, Germany, and France.
On November 10 Sting & Edin's performance in Berlin on October 23 will be broadcast on Deutschlandfunk radio, and on October 26 a live radio performance will be broadcast on Radio France.