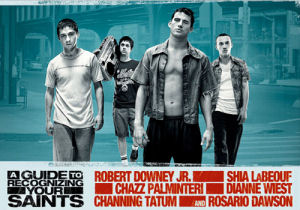 We would love you to see our new film A GUIDE TO RECOGNIZING YOUR SAINTS starring Robert Downey Jr., Chazz Palminteri, Dianne Wiest, Shia LaBeouf, Channing Tatum and Rosario Dawson and directed by Dito Monteil. It has been garnering rave reviews as well as the Best Directing and Best Ensemble Cast Awards at this year's Sundance Film Festival and a Critic's Prize at the recent Venice Film Festival.
Please support our little gem.
Love,
Trudie and Sting
---
"...a raw authentic work of art."
- NEW YORK TIMES
"The actors are all clearly caught up in their writer-director's vision ... they couldn't be more committed than if they were acting in Eugene O'Neill's "The Iceman Cometh.""
- LA TIMES
More information at
www.firstlookstudios.com
.
NOW PLAYING:
NEW YORK
- AMC EMPIRE 25 42nd Street at 10th Avenue)
- AMC LOEWS LINCOLN SQUARE 12 (68th Street at Broadway)
- CITY CINEMAS ANGELIKA FILM CENTER (West Houston at Mercer Street)
LOS ANGELES
- LAEMMLE'S SUNSET-5
- LANDMARK'S WESTSIDE PAVILION CINEMAS
- LAEMMLE'S MONICA 4-PLEX
- LAEMMLE'S PASADENA PLAYHOUSE 7
- IRVINE EDWARDS UNIVERSITY
Opening October 13:
BOSTON
DALLAS
HOUSTON
NEW HAVEN
PHILADELPHIA
SAN FRANCISCO
SEATTLE
WASHINGTON, D.C.