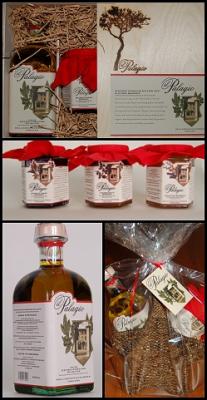 We are pleased to tell you that Savoria has just added Il Palagio products to its selection of the true tastes of Italy. They are immediately available from
www.savoria.co.uk
.
Several years ago, in the Tuscan hills south of Florence, Trudie Styler and Sting found a beautiful sixteenth-century villa (Il Palagio) complete with an estate full of olive groves and vineyards (named Sumner after Sting's family name). They set about restoring the house and land to their former glory, using modern organic farming methods to ensure that the produce was as natural and as healthy as possible.
Impressed with the quality of produce that their "fields of gold" estate was producing, the couple decided it was too good to keep it all to themselves and Trudie set about reinstating the estate's tradition of bottling the honey and olive oil.
Il Palagio Organic Extra Virgin Olive Oil Made from a subtle blend of Frantoio, Leccino, Pendolino, Maurino, Coratina and Leccio del Corno olives, this extra virgin olive oil has a wonderful soft texture, with a sweet aftertaste. Due to the careful harvesting and processing of the olives, this oil has a very low acidity level of around 0.2%, whereas most olive oils have an acidity level of 0.5% to 0.99%.
Il Palagio Organic Acacia Honey - Miele di Acacia A silky textured, golden honey. The white acacia flower is well known for its strong scent, which is translated into this honey's sweet flavour and aroma. This unique taste makes it fantastic on toast.
Il Palagio Organic Chestnut Honey - Miele di Castagna A vibrant red honey, it has an intense aroma with a subtle bitter aftertaste. This beautifully powerful flavour is suited to accompany cheese and other savoury foods.
Il Palagio Organic Honeydew Honey - Miele di Abete A radiant golden amber, this honey contains all the nectar essences of local flowers found in the Apennines and on the hills, giving it a delicate blend of flavours and smells. It is perfect to sweeten your tea, yoghurt or muesli.
Trudie says: "I'm so happy to have been able to keep alive the historical tradition of making extra virgin olive oil and honey from the fruit of the land at Il Palagio. With 10% of profits going to the environmental charities we support, I feel that we're using nature's bounty to give something back to the earth too, and so help preserve its future for generations to come. And it all tastes great!"
The Il Palagio range from the Sumner Estate is organic and is distributed by Savoria and available to buy direct from
www.savoria.co.uk
.