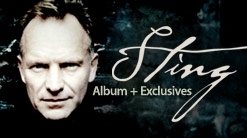 The brand new Sting album, 'Songs From The Labyrinth' is released this week.
This autumn, Sting ventures into new musical territory with an album featuring the music of acclaimed Elizabethan songwriter, John Dowland (1563-1626). Sting is joined on this recording by much-admired lutenist Edin Karamazov, in what he describes as "a soundtrack to Dowland's life in words and music."
In addition to the CD release, to celebrate this brilliant new album, there's a special digital version with a host of exclusive material. The Deluxe Version + Video features 2 exclusive music tracks (including 'Fields of Gold' in a new version accompanied by Lute), plus 15 Listening Guide tracks, in addition to a 15-page PDF booklet and a 'Making Of' video! This bumper-packed digital release is available exclusively at iTunes, from 10th October.
To discover more about 'Songs From The Labyrinth', visit the
album website
.