Songs from the Labyrinth - Reviews...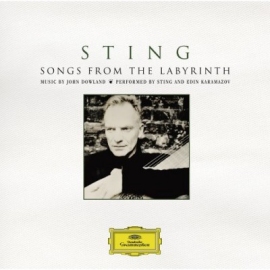 Earlier this year when Sting broke the news that his new project would be an album of Elizabethan-era tunes performed on the lute, it is probably fair to say that it took everyone by surprise. At a time when the course of action for established artists is often the easy option of reaching for the standards catalogue, releasing a live album from the last tour, or of rejoining long-split bands for a nostalgia-fest and a bumper pay day on the road it was somehow deeply refreshing to see Sting instead turn his attention to the works of John Dowland. On reflection however, it should come as no surprise that during a career that has been notable for its unpredictability and occasional side projects like 'A Soldier's Tale', 'Peter & the Wolf', and '3 Penny Opera' that something interesting and unique was on Sting's mind.
Despite being possibly the world's first singer-songwriter - certainly by our modern understanding of the term - Dowland remains something of an enigma. As an English catholic he understandably felt persecuted in his home country where his religion meant that he would never hold the position of court lutenist to Queen Elizabeth that he both desired and felt his talents deserved. Consequently, he spent much of his time - like his modern day contemporaries - travelling and performing around the courts of Europe where he was accepted and celebrated. During these travels Dowland wrote a celebrated letter to Sir Robert Cecil, the Queen's Secretary of State and extracts from this letter are featured throughout the new album and help to put his music into an historical context.
The comedian John Bird first introduced Sting to Dowland's works in 1982 when the two were involved in the 'Secret Policeman's Ball' concerts for Amnesty International. Further prompting by Katia Labeque more than a decade later led him to learn a handful of his tunes, but it was through his friend Dominic Miller that Sting's interest was particularly stimulated. Dominic introduced him to lutenist Edin Karamazov backstage at one of the Sacred Love dates and commissioned the building of a lute for Sting as a present. The end result, an album entitled 'Songs From The Labyrinth', is released by Deutsche Grammaphon in October.
'Songs From The Labyrinth' draws the inspiration for its title from a number of sources - the unusual labyrinth design on the soundboard of the lute that Dominic presented to Sting; the famous labyrinth on the floor of Chartres cathedral which fascinated Sting to the degree that he had an earthwork copy built at Lake House; and the way he describes how he was drawn in by the "labyrinthine complexities and beguiling music" of the lute.
Comprising of five instrumental tracks, eleven tracks with vocals and seven extracts from Dowland's aforementioned letter to Sir Robert Cecil interspersed between the music, newcomers to Dowland's music will be pleased to learn that although his lyrics may have often been despondent and sad, on the evidence of the pieces on this album his music was often not. It is almost hard to believe that the Elizabethan "King of Pain" who wrote 'Flow my tears' and 'In darkness let me dwell' (which must be one of the darkest and most dissonant songs ever written) was the same person who wrote the beautiful melody of 'Come again' and demonstrated the pop sensibilities displayed in 'The lowest trees have tops'.
The album opens with a short piece, the introduction of Dowland's arrangement of 'As I went to Walsingham' which was an anonymous popular ballad of the era. The other instrumentals on the album are the duet 'My Lord Willoughby's welcome home', the magnificently titled 'The Most High and Mighty Christianus the Fourth, King of Denmark, His Galliard' and two fantasias (or fancies) including the exquisite 'Fantasy' and the complex 'Forlorn Hope Fancy'. The latter is reminiscent of Bach although predates him by almost a hundred years. Both of these fancies superbly demonstrate Dowland's composing skills.
'Fine knacks for ladies' is one of two songs that offer some beautiful four part harmonising and because Sting has taken all the vocal parts, the listener is rewarded with a dazzling "Sting choir" effect. This is not overdone, and consequently provides some additional richness and warmth particularly in the jaunty 'Can she excuse my wrongs?' Interestingly, the latter was reputedly written by Robert Devereux the Earl of Essex, one of Queen Elizabeth's favourite courtiers until she finally tired of him, signing his death warrant in 1601, an act that it is reputed to have broken her aging heart.
Sting admits the most vocally challenging song on the album in terms of range and technique was the demanding 'Weep you no more, sad fountains' and he has acknowledged the help he was given by singing teacher Richard Levitt from the Schola Cantorum in Basle. 'Have you seen the bright lily grow' is something of an oddity in that the hand of Dowland is not featured on this track which has lyrics by the poet Benjamin Jonson and was composed by Robert Johnson (the son of John Johnson who took the job of court lutenist that Dowland so coveted).
Throughout the album, extracts from Dowland's fearful letter to Sir Robert Cecil are read by Sting in a guarded, conspiratory whisper, and give an insight into Dowland's mindset while he was away in Europe. They show a man wounded at not getting the job he desired and being surprisingly frank in saying that he felt this was because of his religion. But the deferential tone of the letter is such that you are left in doubt that this was an age when careless talk to the wrong person could have fatal consequences.
Fans of Sting's acoustic music will love hearing his voice sounding so rich, pure and prominent on this album, and the lute playing by Sting and Edin Karamazov is a joy. One of the most striking things about listening to the lyrics on this album is how beautiful and expressive our language was in Elizabethan times and it is a pleasure to be immersed in it. 'Songs From The Labyrinth' is an affectionate and uplifting exploration of John Dowland's music, and, based on our experience, the listener will feel much richer for having allowed Sting to navigate them through this collection of his songs.
T,D&W © Sting.com
---
For some media reviews of 'Songs From The Labyrinth' check out
www.sting.com/discog/
.
---
Available for Order:
ORDER FROM AMAZON.COM
ORDER FROM AMAZON.CO.UK
ORDER FROM AMAZON.DE