Sting and Edin perform on 'The Culture Show'...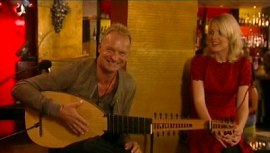 On September 30, Sting appeared on BBC2's 'The Culture Show' to premiere material from 'Songs From The Labyrinth'. He was interviewed by fellow North-Easterner Lauren Laverne and he and Edin Karamazov performed the duet 'La Rossignol' (The Nightingale) which is not on the album, and 'Come Again'.
To see some images from the show click below.