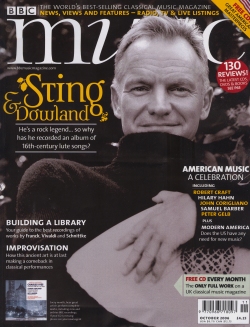 Sting has made millions from pop with his group The Police and then as a solo artist. So why has he now ventured into 16th-century classical to record the songs of John Dowland? Oliver Condy asks him...
Renaissance Man
There's something a little odd going on. Sting comes off stage after his Bergen concert, hits the hotel bar and opens a bottle of Chablis. And then he talks about 18th century keyboard music. I suppose I started it. There's a song of his I particularly like for its harmonic interest: 'Whenever I Say Your Name', a duet with the American R&B star Mary J Blige from his 2203 album 'Sacred Love'. So I ask him about it. "It's based entirely on Bach," he reveals, not without a little pride in his voice. "Look at the bass line and you'll see it's all him. It's one of his preludes - in C, I think."
A quick flick through my Bach volumes later at home confirms the one he means: BWV 924, one of JS's most beguiling and simple preludes from the 'Clavier-Büchlein for Wilhelm Friedemann Bach', a collection of keyboard works written for his eldest son.
Sting's love of classical music is, however, well known. 'Russians', a song from his 1985 album, 'The Dream of the Blue Turtles', is derived from the 'Romance' from Prokofiev's Lieutenant Kijé, and throughout his 2003 autobiography, Broken Music, there are musical similes revolving around fugues, madrigals and counterpoint. As a daily routine back at his Wiltshire home, Sting plucks his way through Bach partitas and cello suites arranged for guitar ("I practise for hours every day... not that you'd pay money to hear me.") In fact, listen to Sting's solo albums, and you'll spot a whole host of influences from world music and country to jazz and Renaissance songs...
The October 2006 issue of BBC Music Magazine is in stores now price £4.25. Visit their website at
www.bbcmusicmagazine.com
.