Sting & Edin Karamazov dazzle at London shows...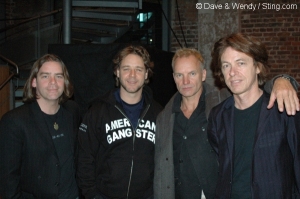 Sting and virtuoso lutenist Edin Karamazov played two amazing shows at the spectacular and intimate LSO St Luke's in London on the nights of October 3/4 when they performed material from the new 'Songs From The Labyrinth' album and reworked some astounding versions of a couple of old favourites.
October 3 was a night full of surprises, when they performed a rehearsal show in front of 300 Sting.com members. Earlier in the evening Dominic Miller performed material from his new album 'Fourth Wall', some old favourites from his solo career and we witnessed the stunning debut of his daughter, Misty Miller, who sang a version of 'Rise & Fall' that brought a standing ovation from everyone in the venue. Misty's performance was the toughest of acts to follow, and Sting took to the stage to say that he was glad it was not him that had to follow it. Instead he introduced 'one of the greatest actors in the world' and the crowd let out an audible gasp as none other than Russell Crowe took to the stage with guitarist Allan Doyle to perform his song 'Raewyn'.
Sting and Edin - the world renowned virtuoso lutenist who has been so influential with Sting in developing the 'Songs From The Labyrinth' album - performed most of the songs on the forthcoming release, interspersed with Sting reading excerpts from John Dowland's letter to Sir Robert Cecil in between tracks and providing an insight into Dowlands life and times. As encores, the pair performed heavily reworked versions of 'Fields of Gold' and 'Message in a Bottle'.
In between these two old favorites Sting had a little fun. Earlier in the evening he had spoken of John Johnson who was one of Queen Elizabeth's lutenists, of his son John Johnson, and of the playwright Ben Jonson, at one point commenting about what a lot of Johnsons were appearing the story. So when he announced he was going to perform a track by Robert Johnson the audience were anticipating another medieval composition. Sting promptly wrong footed everyone by picking up his lute and playing 'Hellhound on my Trail', the classic blues song by 20th century delta legend Robert Johnson!
The crowd would not cease their applause, eventually dragging Sting and Edin back to the stage where Sting confessed they had no more songs, so would reprise 'Come Again' for a second time. A special mention must also be made for Stile Antico, the young and dynamic early music vocal ensemble who provided such wonderful singing on several of the tracks. Their first album is due out in July 2007, and on the evidence of their performance at these two shows will be well worth further investigation.
On October 4, there was no support act but the concert started with an interview conducted by Fiona Talkington which will be broadcast - along with the show - on BBC Radio 3 this Sunday (October 8) on the 'Early Music Show'.
The evening was an incredible experience for everyone there and it will be an event that everyone will cherish for a very long time. It was great to see so many Sting.com members there - old members and young, long time members and new ones.
---
What the press said...
A genuine tour de force...
Sting's latest artistic venture, despite being pregnant with pratfall potential, is a remarkable triumph. "Haunted" for 20 years by the maudlin music of the Elizabethan songwriter and lutenist John Dowland, Sting has recruited lute maestro Edin Karamazov to record an album of Dowland's compositions, 'Songs From the Labyrinth'. The stage would appear to be set for an evening of over-reaching pretension.
The project is saved, however, by the affection both men clearly feel for their arcane subject. Dowland's music is marked by a doleful, spectral introspection, and Sting subjugates his rock-star ego before the spirit of the songs, filling in their outlines in his pitch-perfect and surprisingly resonant tenor.
Tunes such as 'Come Again', all febrile sprung rhythms and spindly-yet-sensual counterpoint, are plangent and intimately evocative. Sting gamely plucks his lute and Karamazov is a virtuoso, drawing profound joy and complex vibrations from his arsenal of instruments like a madrigally inclined Jimmy Page.
Famously a former teacher, Sting approaches the evening with a pedagogue's air, explaining the minutiae of Dowland's life, and reading excerpts from the composer's correspondence between songs. This attention to detail enhances the delicate delights of a gossamer ditty such as 'Have You Seen the Bright Lily Grow', written for the soundtrack of a play by Ben Jonson.
"I've played to some of the biggest audiences in history, over half-a-million people at a time," says Sting in closing, "but I've never felt as nervous as I did tonight." Such trepidation was unnecessary: against all expectations, this was a genuine tour de force. (© The Guardian by Ian Gittins)
Surprisingly good fun...
Ever the Renaissance man, Sting has lately turned his attention to playing the lute, devoting himself for the best part of two years to an intense study of the 16th-century composer and performer John Dowland. The fruits of this "labour of curiosity" can be heard on a new CD, 'Songs from the Labyrinth', a collection of music and readings from the letters of Dowland, performed by Sting and the lutenist Edin Karamazov, which was brought to life at a recital in the restored St Luke's.
It quickly became clear that Karamazov was going to be shouldering the lion's share of the actual lute playing. His fingers flew in acrobatic combinations across the giant fretboard, while Sting, sitting bolt upright, broached the dolorous lyric of 'Flow my Tears'. "Let me mourn/ Where night's black bird her sad infamy sins/ There let me live forlorn," he sang. The lute sounded glorious - like a classical guitar but fuller and more ripened. And Sting sounded... well, like Sting.
And here was the curious thing. Glib and pretentious as the whole exercise might appear on the surface, there was a clearly discernible link between the millionaire pop star of the 21st century and the wandering minstrel of yore. In technical terms, Sting couldn't hold a candle to any one of the singers from the vocal group Stile Antico, who joined the duo for a swirling rendition of 'Can She Excuse My Wrongs'. And his lute playing would probably not have earned him a position in the courts of medieval Europe. But the harmonic intervals in Dowland's airs and the general thrust of a song such as 'The Lowest Trees Have Tops' did not sound that far removed from the music that Sting is known for.
As if to underline the point a mischievous choice of encores included Sting's own song 'Fields of Gold', a Robert Johnson blues, 'Hellhound on my Trail' and the Police hit 'Message in a Bottle', all rendered in the courtly, lutenist style. Dowland may have been spinning in his grave, but it was surprisingly good fun. (© The Times by David Sinclair)
Lute sweet
A slightly bemused Sting is doing an onstage pre-concert interview with Radio 3. For 20 years he has been haunted and humbled by the music of the great Elizabethan composer and lutenist John Dowland - 'the music of self-reflection,' he says, 'and melancholy, a much-neglected emotion nowadays'.
In collaboration with lutenist Edin Karamazov, Sting has recorded an album of Dowland's feverish, lovelorn songs, after years of having friends (comedian John Bird, pianist Katia Labeque) tell him his voice would be perfectly suited to the task.
And there's a full church to witness the spectacle: tables and chairs close to the stage reserved for wife Trudie Styler and co; in the ordinary seats behind, the likes of Britain's leading tenor, Ian Bostridge. Sting, understandably, appears a little nervous. Hands on pinstriped thighs, white shirt unbuttoned to his chest hair, he is self-deprecating ('Dowland was born in 1563, which makes him only slightly older than me') and keen to present the evening as a celebration not of his own boundless eclecticism but of Dowland, 'the first alienated singer-songwriter'.
And then he melts into the dreamy 'Flow, My Tears', and there's real joy in his easy way with 'The Lowest Trees Have Tops' and its rapturous refrain: 'And love is love/ In beggars and in kings'. Karamazov accompanies with self-absorbed elan while Sting looks on in rueful admiration. When he finally picks up his own lute, a gift from another friend and 'unique', assorted expressions of sheer concentration flit across his face.
Prefiguring 'Every Little Thing She Does is Magic' by 400 years, there's a lovely 'Come Again' ('To see, to hear, to touch, to kiss, to die/ With thee again in sweetest sympathy') and, not long after, momentarily alone, Trudie is on her feet for a standing ovation. (© The Observer by Carol McDaid)
Set List:
Walsingham
Reading - Letter Extract 1 - "Right Honorable: as I have bin most bound unto your honor..."
Flow my tears
The lowest trees have tops
Reading - Letter Extract 2 - "...Then in time passing on Mr. Johnson died..."
The Most High and Mighty Christianus the Fourth, King of Denmark, His Galliard
Can She Excuse My Wrongs
Reading - Letter Extract 3 - "... And according as I desired ther cam a letter..."
Fine knacks for ladies
Reading - Letter Extract 4 - "...From thenc I went to Landgrave of Hessen..."
Fantasy
Come, heavy sleep
Reading - Letter Extract 5 - "...From thenc I went to Landgrave of Hessen..."
La Rossignol
Come again
Have you seen the bright lily grow
Reading - Letter Extract 6 - "...After my departures I caled to mynde our conference..."
Weep you no more, sad fountains
Clear or cloudy
Reading - Letter Extract 7 - "...men say that the Kinge of Spain is making gret preparation..."
In darkness let me dwell
---
Fields Of Gold
Hellhound on my Trail
Message in a Bottle
---
Come again (Oct 3)
Fine knacks for ladies (Oct 4)