Trudie acquires 'Grk' children's book trilogy...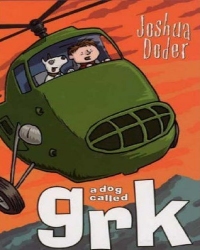 Trudie Styler has acquired film rights to Joshua Doder's "Grk" children's book trilogy for her production company.
The deal covers the British author's "A Dog Called Grk," "Grk and the Pelotti Gang" and "Grk and the Hot Dog Trail."
In the books, which have been compared to the Tin-Tin comics series, a dog teams with 12-year-old Tim Malt to fight an evil dictator in eastern Europe, chase dangerous criminals in South America and pursue other adventures in exotic locations around the world.
Styler discovered the books through her 12-year-old son.
"Our hero is not Harry Potter," she said. "He's not James Bond. There are no hyper-real things or great gadgets and gin. He's a citizen who does the right thing and becomes a young activist. The stories are wildly entertaining and set in exotic places. It's done with the broad stroke of high adventure."
"I've done a lot of work with human rights," she added, "and this is the first thing I've seen that covers the need to entertain our children while letting them know that they live in a world that is not safe for a lot of its children. It's a jumping board to introduce the concept that not everyone is as fortunate as we are. Each book examines the geo-political state of a country."
These adventure films will require "a good budget," said Styler, who already has received an expression of interest from eBay entrepreneur Jeff Skoll's activist banner Participant Prods., which helped make such films as "Good Night, and Good Luck" and "Fast Food Nation." She is seeking a screenwriter.
Styler first turned her charity fundraiser skills toward producing with the Tiananmen Square documentary "Moving the Mountain," directed by Michael Apted, and "Boys From Brazil," a film about Brazilian transsexual prostitutes. She moved into fiction with "The Grotesque," starring Alan Bates, Sting and Theresa Russell. Styler went on to back "Lock, Stock and Two Smoking Barrels," "Greenfingers" and "Snatch."
Styler then had Dito Montiel direct the screen version of his autobiography "A Guide to Recognizing Your Saints" by bringing in Robert Downey Jr. The film, which Styler will accompany to the Venice Film Festival, will be released in the fall by First Look Pictures Releasing.
© Reuters/Hollywood Reporter 2006