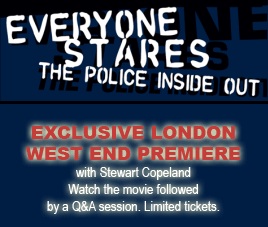 Stewart Copeland's film "Everyone Stares: The Police Inside Out" has its premiere in London on Monday, September 4 at the Apollo West End. Stewart will also be there to take part in a Q&A session after each screening.
You can choose from three screening times - 4.30pm, 6.30pm and 8.30pm.
- Watch the movie and then enjoy a Q&A with Stewart.
- Free Stewart Copeland signed Drumsticks to the first 140 people!
- Win a signed poster of the movie!
- Everyone receives an exclusive picture - only 600 made.
- Win one of 12 signed on the night drum sticks.
- Full Q&A with Stewart Copeland at all screenings
To book a place call 0871 223 3444 and you can find out more information
here
.