Sting performs with Chris Botti at UNICEF Snowflake Ball, November 30...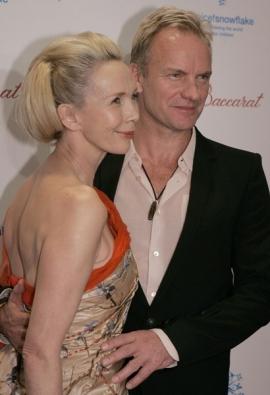 UNICEF honored CBS Chairman Leslie Moonves at UNICEF Snowflake Ball, Presented by Baccarat, in Beverly Hills. Additional Tributes and honours went to UNICEF UK Ambassador Trudie Styler and Pacific Life Foundation. Sting, Chris Botti and Natalie Cole all performed.
Leslie Moonves, Chairman, CBS, received UNICEF's Champion for Children Award at the first UNICEF Snowflake Ball in Los Angeles, presented by Baccarat. The event took place on November 30, 2005 at the Regent Beverly Wilshire, a Four Seasons Hotel. Moonves received the award for his dedication to positively impacting children around the world.
Trudie Styler, UNICEF Ambassador, film producer, environmentalist and actor, received the Danny Kaye Humanitarian Award for her longstanding commitment to UNICEF. It was presented to her by Robert Downey, Jr. The award is bestowed upon an exceptional individual who has used her celebrity as a force for the survival, protection and development of women and children worldwide. Appointed as Ambassador for UNICEF UK's End Child Exploitation Fundraising Appeal in July 2004, she has raised close to million for the campaign to protect millions of children from exploitation - child labor, child trafficking and commercial sexual exploitation. Early in 2004, she traveled to Ecuador on a fact-finding mission for the campaign and, in February 2005, she visited the tsunami-affected areas of Sri Lanka.
Multi-award winning singer, songwriter, composer and humanitarian Sting performed with Chris Botti, internationally-renowned trumpeter and composer.